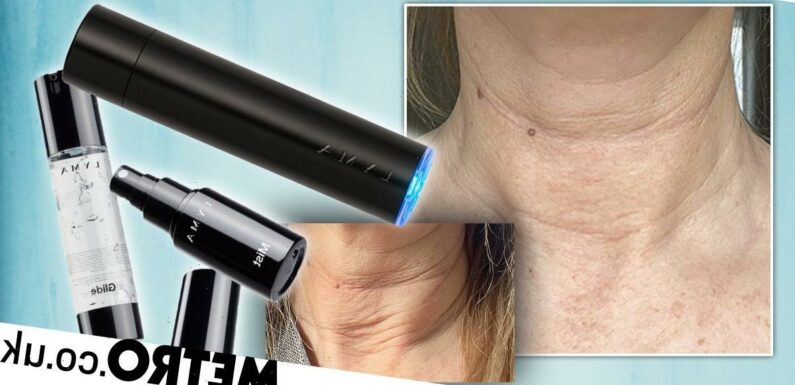 This article contains affiliate links. We will earn a small commission on purchases made through one of these links but this never influences our experts' opinions. Products are tested and reviewed independently of commercial initiatives.
Skincare is confusing. On the one hand, we're telling each other to embrace our imperfections but we're also spending more on surgeries and 'tweakments' while it's become commonplace for even your local dentist to offer botox and filler.
So it's not a real surprise that a new product is now available that is 100 times stronger than other LED devices and that celebs have been clambering for it.
The 'secret' we're now able to get in on? The LYMA laser – the first at-home laser of its kind, that counts Kim Kardashian, Hailey Bieber, Kate Hudson and Gwyneth Paltrow as loyal fans.
Kim famously once said that while her kids are sleeping, she spends her time lasering herself from head-to-toe. And now we know how she was doing it.
The LYMA laser is like a one-size fits all solution for many issues people face like cellulite, scarring, wrinkles, pigmentation, scars, and acne.
Science talk: as you move the cold laser over your skin, the beam reaches right down to the base layer of your epidermis, unlike any other at-home treatment, to transfer light energy into these cells encouraging them to rejuvenate and repair which then boosts the all-important elastin and collagen production.
Its tech has been adapted from rehabilitation hospitals, where laser technology has been used for decades to promote the regeneration of cells during the healing process.
It claims to be able to virtually stop that clock and those that have forked out the money for one have said they've seen transformative results in just 12 weeks.
This has made it attractive to celebrities like Kim, Hailey and even the goddess of health and wellness herself, Gwyneth.
https://www.instagram.com/p/CnPgHwzq9fp/
Unlike other laser treatments, you don't even have to shield your eyes with goggles while using the LYMA laser – which uses a cold laser, not one that generates heat – and while many laser treatments have been unsuccessful with darker skin tones, the LYMA laser is said to be suitable for all.
And it doesn't even hurt. While other lasers can cause discomfort, the type of technology the laser uses means that it's pain-free despite being medical-grade, so it's safe to use at home.
Dr Graeme Glass, a leading craniofacial, aesthetic, and plastic surgeon, calls it 'the breakthrough beauty product of the decade'.
There is no doubt that the LYMA Laser is an investment at £1999, but do you get value for your money? 
If you compare it to a £1500 hourly session of laser at your beauty clinic, you might think so.
The LYMA website shows extensive case studies and before and after photos as well as how long people have been using the laser and the amount of time each day on the targeted area. The results are impressive.
For more information about how LYMA laser works, you can click here.
To buy the LYMA laser, click here.
Source: Read Full Article