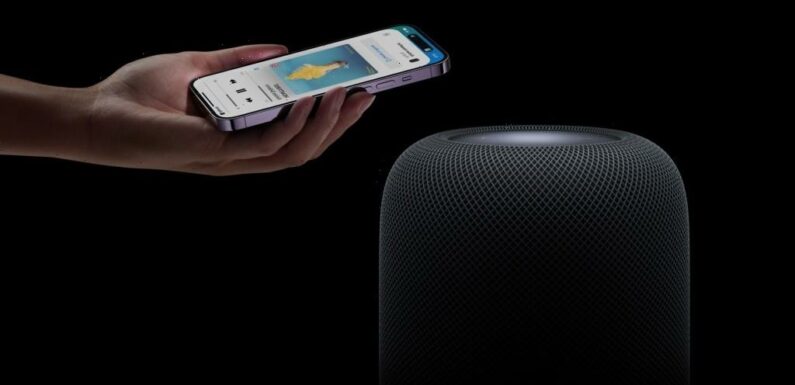 Apple is back, big time, in the smart speaker space: The tech giant announced its second-generation full-size HomePod — promising "next-level acoustics" — representing a new competitor to the likes of Amazon's Echo, Google's Nest and Sonos speakers.
The launch of the new HomePod, which measures 5.6 inches wide and 6.6 inches high, comes two years after it discontinued the original model while Apple has continued to sell the smaller HomePod mini speakers.
The new HomePod is priced at $299, available in white and black (or "midnight" as Apple has dubbed it). It's slated to ship beginning Feb. 3.
The device supports Spatial Audio tracks, and users can create a stereo pair with two HomePod speakers in the same space. The speakers can be connected with Apple TV 4K for Dolby Atmos audio in a home-theater setup, and with Siri on HomePod users can control what's playing on their Apple TV hands-free. Also, HomePods support multiroom audio, so you can play the same song on multiple HomePod or HomePod Mini speakers or even use them as an intercom to broadcast messages to other rooms.
In addition to core audio features, the second-generation HomePod provides smart-home automation and management features. The device features a new built-in temperature and humidity sensor, letting you create automations that close the blinds or turn on a fan automatically when a certain temperature is reached in a room. Via an update this spring, the HomePod's microphone can listen for smoke and carbon monoxide alarms, and send a notification directly to the user's iPhone if a sound is identified.
Read More About:
Source: Read Full Article