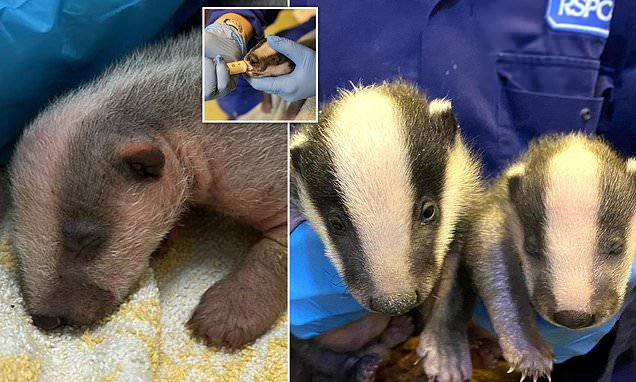 When Bertha met Bart! Baby badger feared dead after being found frozen 'solid' in woods bonds with her adopted brother
 Bertha the newborn cub was found alone and close to death in Norfolk woods
 Read more: This camouflaged corgi is almost IMPOSSIBLE to spot in the woods. Can YOU find it (without cheating)?
A tiny badger found almost frozen to death has been rescued by the RSPCA, and has quickly formed a bond with another orphaned cub. 
A dog walker stumbled upon the newborn hedgehog while out walking in Norfolk last month, and feared the tiny woodland creature had perished in icy temperatures because she was stiff with cold. 
However, the tiniest movement in the badger's paw suggested that the cub was still alive, and the dog walker tucked her into their jacket and headed to the nearest RSPCA centre. 
Workers at the animal rescue centre said the newborn – thought abandoned by her birth mother, who may have been injured – was so cold she was on the edge of death and the intervention saved her life.  
RSPCA inspector Dan Bradshaw said she probably 'wouldn't have lasted much longer' but, several weeks on, she's thriving in the animal charity's care. 
Hey big sister! Bertha, left, is now thriving after being found close to death in a woodland in Norfolk by a dog walker last month…and she's already got a new pal, adopted younger brother, Bartholomew, who's also an orphan
He revealed that she's taking formula milk regularly and now weighs over a kilo.
The heartwarming tale gets even more rosy – Bertha has bonded with the latest arrival at the centre, another, younger orphaned badger named Bartholomew. 
Manager of the East Winch wildlife Centre where Bertha and Bartholomew now live, Evangelos Achilleos, said: 'Bartholomew came from East Sussex Wildlife Rescue and Animal Service where he was found orphaned.
'The two have been introduced and are being very vocal and feeding well.
The dog walker thought the cub had already perished because she was so cold – it's thought her mother may have been injured or possibly just abandoned her 
Fed formula milk around the clock, several weeks after being taken to an RSPCA centre, Bertha already weighs over a kilo
The RSPCA has urged members of the public to alert them if they find a dead badger in woodlands, saying it's likely cubs could be struggling to survive nearby
'They are still very young and very delicate, and hope they will grow well, but it is still early days.' We are going through lots of powdered milk (Royal Canin) so if anyone is able to donate any to us via our Amazon wish list we would be extremely grateful!'
Eventually the pair will be released back in the wild when they're older and strong enough to cope with rural life. 
Cubs can remain dependent on their mothers even after they leave their respective setts, usually at between eight to ten weeks old.
The RSPCA praised the dog walker for bringing in the badger, and requested that members of the public who spot a deceased older badger should make them aware – saying often there will be vulnerable newborns left alone nearby.
Source: Read Full Article