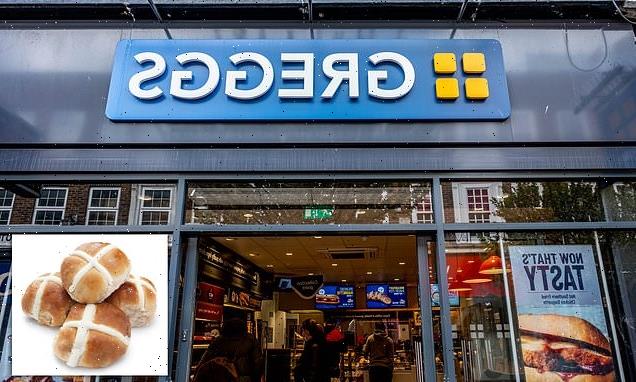 Hot cross customers! Greggs sparks outrage after axing the popular Easter bun from its menu
Greggs has announced that it won't be bringing back its hot cross buns this year
This is the second year that the bakery chain has axed the iconic Easter bake 
READ MORE:  M&S' hot cross buns top Good Housekeeping's annual Easter taste test – while £3 ASDA egg is crowned the best budget buy for children
Customers have been left livid after Greggs announced it wouldn't be bringing back its hot cross buns this year. 
The popular bakery chain has axed Easter confection from its menu, meaning you won't be able to get your Good Friday treat with your steak bake or sausage roll this year. 
Although, Greggs has said that there will be other seasonal products available, outrage and debate has still ensued on Twitter. 
A Greggs spokesperson said: 'While Hot Cross Buns won't be returning to our menu this Easter, keep an eye out for other Easter favourites that will be arriving in our shops soon.' 
Popular bakery chain Greggs has announced that it won't be selling hot cross buns this year for Easter 
This is the second year that Greggs has decided to axe hot cross buns from its Easter menu. However, it promises that there will still be seasonal treats available 
However, they didn't reveal the specific products that would be available this Easter, previous ranges have included spring-time chocolate cornflake nests and iced bunny biscuits. 
The decision to abandon the humble hot cross bun marks the second year of its absence on Greggs' shelves, where you could previously get a pack of four for as little as £1. 
Customers have taken to Twitter to share their upset about the decision from the bakery chain. 
Last year one user posted: '@GreggsOfficial no Hot Cross Buns this year! Are you crazy?! Not happy! Please change your minds! #Greggs #hotcrossbuns'
This year one annoyed customer said: 'No Hot Cross Buns? No Greggs. Simples'
While another suggested: 'Waitrose has plenty of hot cross buns. Who owns Greggs?
Customers took to Twitter to express their outrage over Greggs' decision not to bring back hot cross buns this Easter, with some getting passionate about the changes the bakery chain has made 
And a fourth said: '@GreggsOfficial Why no hot cross buns? Greggs is just an expensive fast!!! food outlet now, not a bakery anymore.' 
Greggs hasn't revealed the reasons behind their decision to exclude the iconic Easter bake from its menu this year, but MailOnline has reached out for comment. 
It's not the only Easter favourite that's off shelves this year with Cadbury recently announced that Dairy Milk Egg 'n' Spoons have been discontinued after a 10-year run.
Source: Read Full Article