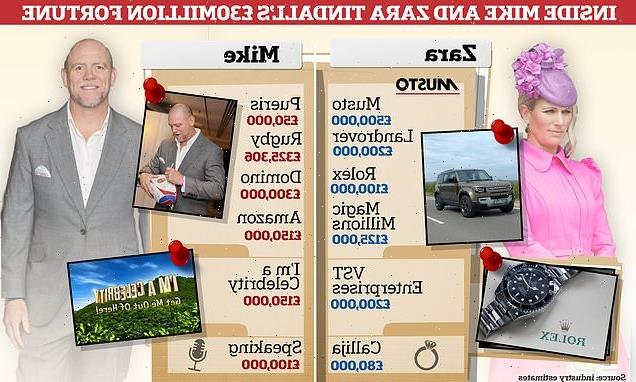 Inside Mike and Zara Tindall's £30M fortune: From her Rolex and Land Rover deals to his I'm A Celeb and cringe-worthy Domino's TV adverts
Mike and Zara Tindall are one of the best-recognised couples in the UK
With that star power comes a £30million fortune through deals and work 
Mike and Zara Tindall have amassed an estimated £30million fortune from a number of shrewd deals, sponsorships and endorsements.
England Rugby legend Mike is the fourth richest former player in the UK with a net worth of £15million.
And his Royal wife Zara is no different, bringing in the same amount from her own business interests and work.
But some of the couple's money-spinners might surprise some, as Mike and Zara are involved with quite the variety of big names.
Here MailOnline takes a closer look at some of them:
Some of the couple's money-spinners might surprise some people as Mike and Zara are involved in quite the variety of big names
Zara's Musto deal – £500,000
Zara Tindall stars in Musto s Autumn Winter 2022 campaign in a publicity shot for the brand
Throughout her life, Zara, 41, has been working closely with a number of brands, which have provided her with a solid portfolio.
She enjoys a long-standing relationship with sailing and outdoor brand Musto.
As an ambassador, she is featured on the firm's website saying: 'I started riding horses at a very young age and my mother was into sailing, which is how I became familiar with Musto as a sailing brand.
Musto then developed the equestrian and country range so it was natural to enjoy the brand's products for this area as well. The cut is flattering for women – you feel very feminine in them, while being functional. Jackets don't ride up or let cold air in and are made of premium fabrics that are strong enough to allow you to work and look good at the same time.'
It was previously estimated that King Charles' niece could have earned £500,000 for deals with Musto.
Mike's cannabis oil deal – £50,000
Mike Tindall began his partnership with Pueris CBD, a firm that sells cannabis products in 2019
Mike, 44, has also been bringing money for partnerships of his own.
In 2019, Zara's husband announced a new partnership with Pueris CBD, a company selling cannabis products.
Its website proudly mentions the association, adding: 'Here at Pureis lots of our friends lead active lifestyles, with many who have spent their lives dedicated to sports.
'Like Sir AP McCoy OBE who was 20-time Champion Jockey, and Mike Tindall MBE rugby legend having 75 caps for England and played on England's winning world cup team in 2003.'
When he shared the new of his partnership on Twitter, Mike also offered his followers on social media a discount code. 
It is estimated he will have received a £50,000 fee upfront as well as possible commissions from sales from his promotion.
Zara and Land Rover – £200,000
Zara during the world premiere of the Land Rover Discovery at Birmingham's Packington Hall park in September 2016 
Zara has been collecting partnerships with legacy brands for years, one such relationship is Land Rover.
She became an official brand ambassador in 2006, strengthening the luxury 4×4 maker's already impeccable royal connections.
The Queen was thought to have had no fewer than 30 Land Rovers, while they are also driven by all of the Queen's children and most of her grandchildren – as well as the Princess of Wales' family.
Zara became the first person to be given the keys to a Range Rover Evoque in 2011 and has presented a women's scholarship for training in engineering, sponsored by the firm. And every year they sponsor her equestrian competitions.
It is estimated that Zara could be earning up to £200,000 a year from Land Rover.
Mike's rubgy – £325,306
Mike Tindall is a rugby legend and made 75 appearances for England including World Cup win
Mike spent 17 years playing rugby before his retirement in 2014.
He made 75 appearances for England, including playing in the 2003 World Cup winning team alongside Johnny Wilkinson.
Following his retirement as a player, Mike worked on the coaching staff for Gloucester, his former rugby club, where he is thought to have earnt between £100,000-£200,000 a year, according to Now to Love. 
Although it is unclear exactly how much Mike earnt as part of the World Cup-winning team, The Telegraph reported at the time that his teammate Johnny was set to earn more than £1.7 million the following year through endorsement deals, which gives some idea of how lucrative a place in that squad may have been.  
These days, it is estimated that an England Rugby star who has made more than 50 international appearances earns around £325,306, according to Sky Sports.
Zara and Rolex – £100,000
Zara earing a Everose-gold Yacht-Master on Oysterflex bracelet Rolex watch back in 2018
Zara enjoys a partnership with luxury watchmaker Rolex, having been a 'testimonee' – or ambassador – for the brand, since 2006.
It was previously estimated that Zara was likely to get £100,000 for the partnership.
The mother-of-three will also receive all the watches she was seen wearing at several equestrian competitions or when out and about with her family.
Rolex proudly declares: 'Zara became a Rolex Testimonee prior to winning individual gold at the World Equestrian Games in 2006 in Aachen. Her career highlights include team silver at the 2012 London Olympics and at the World Equestrian Games in Caen in 2014.
'She is proud to be part of Rolex's longstanding support for equestrianism that spans more than 60 years and shares with the Swiss watchmaking brand a quest for perpetual excellence through precision and superior performance.'
Domino's deal for Mike – £300,000
Mike appeared in a funny advert with his friend and former rugby teammate James Haskell
While the pizza firm offers regular meal deals to fast food fans, Mike had a less cut-price deal with them himself.
He appeared in an amsuing advert with his friend and former rugby teammate James Haskell in October last year.
The commercial played on Mike's position within the royal family and saw him land in a helicopter. He jumped out with a load of pizza boxes, which he then delivers to Haskell.
Mike tells him he has 'friends in high places' in the TV ad, which is estimated to have made him £300,000.
Zara's Magic Millions deal – £125,000
Zara and Mike Tindall arrive for the 2023 Magic Millions Polo and Showjumping on the Gold Coast
Zara was also announced as the first Magic Millions Racing Women Ambassador in 2012.
She and now travels to Surfers Paradise in Queensland every year for the Gold Coast Yearling Sale, seven days of auctions which culminate in a major race meeting where all contenders are horses bought at previous Magic Millions auctions.
'This is an ongoing partnership that sees Zara attend events every year to present gifts to the winners,' Mischa Jolin, Managing Director of Influencer, PR and Branding agency, Edencancan previously told MailOnline.
'She is an integral part of the brand which empowers women within the equestrian field.
'I would anticipate this partnership is worth circa £125k per year.'
Mike's Amazon adventure – £150,000
Mike Tindall starred in an Amazon advert last year, again with former teammate James Haskell
Mike appeared in an Amazon Prime TV ad last year – another comedic performance alongside former teammate Haskell, who tries to enlist his help with a delivery. 
Mike seems reluctant and tells him 'Hask, I can't talk mate, I'm trying to get some England v New Zealand tickets and even I can't get my hands on them!'
A customer called Archie is then surprised when a delivery turns up at his door and Mike jumps out of a box. 
Brand expert Nick Ede said: 'For the Amazon advert, which he is not in as much, he would have got around £150,000 for this.' 
Digital Health Passport – £200,000
Manchester-based cyber security firm VST Enterprises was behind the V-Health Passport, an app which could be scanned to reveal whether the user had tested negative for coronavirus or had antibodies and had Zara and Mike as embassadors
The couple raised eyebrows in 2020 when they both agreed to act as global ambassadors for a tech firm behind a 'digital health passport' app linked to COVID-19.
At the time, branding experts said Zara and Mike stood to make £200,000 from the deal with VST Enterprises.
The Manchester-based cyber security firm was behind the V-Health Passport, an app which could be scanned to reveal whether the user had tested negative for coronavirus or had antibodies.
In January last year it was reported that the firm had entered administration 
Then in September 2022 it was reported that the assets of the company were bought by a Davis Co. Holdings subsidiary
Mike's I'm A Celebrity stint – £150,000
Mike was one of the most popular members of the I'm A Celebrity camp this year and came 4th
Mike is said to have earned £150,000 for his stint in the I'm a Celebrity jungle last year.
Producers got their money's worth, with him staying in the contest until almost the end, bagging fourth place.
His friend and podcast co-host Alex Pain suggested he could have taken on the work for the money.
He added: 'He's on the sporting circuit, but it's worth remembering that the last two years there haven't been pretty much a days work for people in that sort of industry.
'He's a guy who's in the public eye and that's where he earns his money.'
Zara's jewels – £80,000
Zara at the launch of The Zara Phillips Collection by Calleija at the Royal Arcade in June 2015
In 2018, Zara also debuted a collection with luxury jewellery Calleija, which is still available today and could have helped her make £80,000.
The Zara Phillips Collection by Calleija is a range of equestrian inspired pieces of fine jewellery with an exclusive price tag.
A 'saddle ring' she's designed for the Australian brand costs around £7,000 and Zara will receive royalties from sales.
The collaboration was seen as a passion project at the time and Zara designed the pieces as well as modelled them.
She said at the time: 'Hopefully there's no age limit for the women this collection is aimed at. I wanted the collection to be beautiful, wearable pieces that I can wear every day, that work from day to night.'
Mike's speaking engagements – £100,000
Mike has a company overseeing his work which includes managing his speaking appearances
Mike runs a company, Kimble Trading Ltd, which oversees various business activities – including managing his speaking appearances.
It is thought that Mike earns a six-figure salary from the company, although he came under fire during the pandemic after it was revealed Kimble Trading had received furlough cash.
According to The Sun, the company's accounts said: 'The outbreak of Covid-19 and subsequent restrictions imposed have led to a number of events in 2020 being cancelled.
'The company has taken advantage of all available government aid in order to support the business and its employees through the crisis.' .
Source: Read Full Article