Remember when your parents told you not to play with your food? Well, the beauty of adulting is that, while you can still love your parents, you pretty much get to do what you want from here on out — you can have dessert for dinner, eat an entire block of cheese for lunch, and — you guessed it — you can even play with your food with nary a soul to stop you. And now, JELL-O wants to help you with that. The 121-year-old iconic instant dessert brand announced in a press release that, in an effort to encourage play and creativity amongst children and adults alike, they are now launching JELL-O toy-shaped molds, which basically means that '90s kids everywhere can rejoice in eating sand, mud, and even an edible construction kit made entirely from delicious Jell-O.
Katy Marshall, Marketing and Sales Lead of Springboard — the Kraft Heinz platform working to promote growth of the JELL-O brand — said in a press release that, with JELL-O Play, the brand aims to "inspire parents and kids to set their imagination free with a line of gelatin toys celebrating free play and fun." In short, JELL-O Play is a toy that you can actually eat, and there is no amount of nostalgia as wonderful as being able to eat some cool toys made of Jell-O. Even if you're 28 (you totally know who you are) — so unleash that inner child already.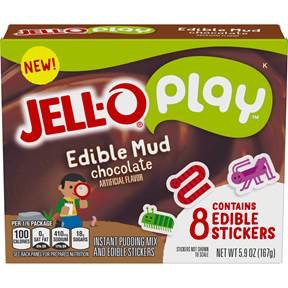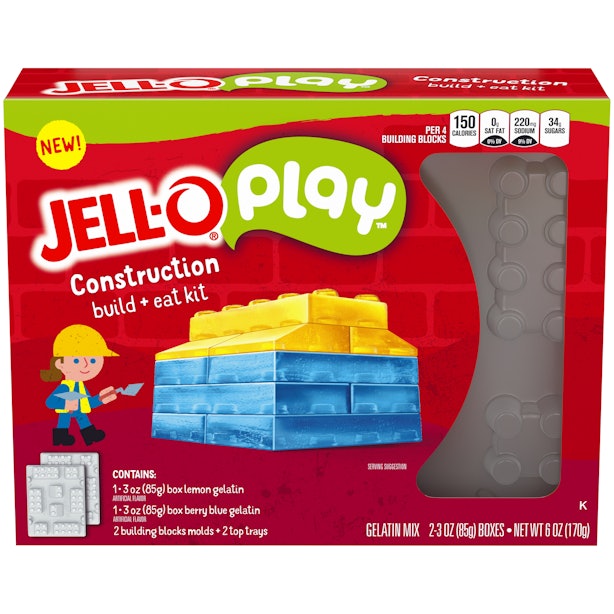 The JELL-O Play Build and Eat Kits allow kiddos of all ages to create building blocks shaped with plastic molds in order to design fruity and delicious airplanes and construction sites. JELL-O Play Edible Stickers are, obviously, a must, and the JELL-O Play Cutters kits provide teensy little cookie cutters for shaping your treats into all sorts of adorable shapes. Plus, you know you've always wanted to steer your own JELL-O ship (and/or turn it into a JELL-O shot — no judgment!).
JELL-O Play is also launching a new animated short film called Bring Your Kitchen To Life, which, if you're anything like me, sounds super fun — after all, who doesn't want to see an ordinary kitchen transformed into a JELL-O-y wonderland? Also, I'm a firm believer that one is never too old for animated movies. Bring Your Kitchen To Life can be seen in movie theaters nationwide through July 6, and is the perfect play date for, well, just about anyone.
The new JELL-O Play line is priced at just about five bucks a pop (so you'll definitely want one of each), and is rolling out via retail stores throughout the summer. JELL-O Play Kits are now available through Amazon.com, and some select retailers like Target, Target.com, and HEB supermarkets nationwide.
Source: Read Full Article