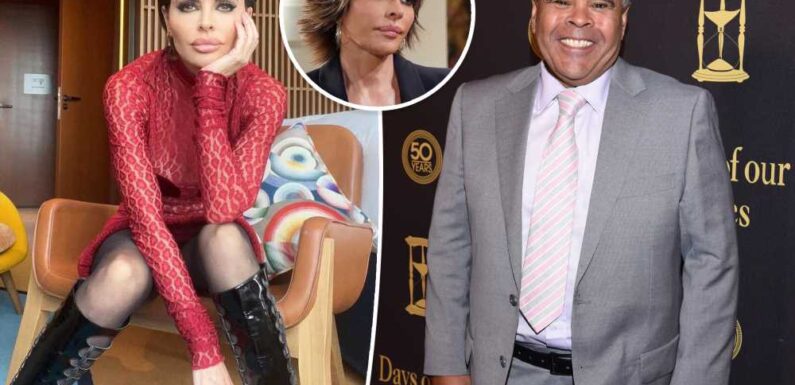 More On:
lisa rinna
Lisa Rinna, 60, poses nude in jaw-dropping photo: 'Celebrate it'
Lisa Rinna smolders in skintight latex: 'I'm not sorry'
Lisa Rinna, Brandi Glanville 'had a good laugh' over comparison comments
Fans think 'unrecognizable' Lisa Rinna looks like Brandi Glanville, Steven Tyler
Lisa Rinna ripped into Albert Alarr and the "Days of Our Lives" set environment after the director's two-month investigation for misconduct.
The "Real Housewives of Beverly Hills" alum wrote via Instagram Stories Tuesday that "karma is a bitch" amid claims that the 67-year-old allegedly groped actresses on set of the long-running soap.
Rinna, 60, posted a screenshot of an article breaking down the accusations, alleging that they were a "long time" coming.
"Let's see when's the last time I went over there and did that week on Peacock[?]" she wrote. "I couldn't believe the work environment. It was disgusting."
The "shocked" reality star concluded, "I let many people know, Albert included, and they didn't do a thing until now, it seems."
The Bravolebrity starred as Billie Reed on the series from 1992 to 1995. The actress later reprised her role from 2002 to 2003, also returning to the show from 2012 to 2013.
After appearing in a few episodes in February 2018, she made her final appearance in 2021.
As for Alarr, he began working on "Days of Our Lives" in 2003.
According to a Deadline report, the investigation against Alarr began in March after a female employee claimed women had been disproportionately laid off and were not receiving equal pay.
The probe later pivoted into a misconduct investigation after several allegations were made against Alarr, who did not respond to the outlet's request for comment.
In addition to claims that Alarr allegedly "belittl[ed] people" on set, made "inappropriate" comments and gave notes in a "vulgar, crass way," a source alleged to Deadline that he kissed an actress without her consent.
Multiple witnesses additionally accused Alarr of groping actresses while giving directing instruction.
After the two-month investigation, Corday Productions took "a series of actions designed to ensure a safe and respectful work environment."
Notably, Alarr remains the show's co-EP and director, which has left cast and crew "outraged," Deadline reports.
Page Six has reached out to Lisa Rinna's rep for further comment.
Following her soap opera career, Rinna returned to TV screens in 2014 to star in "RHOBH" for eight consecutive seasons. She announced her exit in January.
Can't get enough 'Real Housewives?'
10 most expensive homes owned by Housewives
Why so many Housewives divorce their husbands
Which 'Real Housewife' Are You Based on Your Zodiac Sign
Prior to her departure, the model was labeled "the biggest bully in Hollywood" by former cast member Kathy Hilton. She was also booed by fans at BravoCon 2022.
Despite the backlash she faced after Season 12, Rinna has insisted the parting of ways was mutually agreed upon between her and Bravo.
At the time, she gushed to Interview magazine about how "grateful" she was for her experience on the reality show.
"I wouldn't change any of it," Rinna claimed. "I learned a lot, man, and I can go up against anybody in the f—king world right now. … The tools that it gave me as a bad bitch, you can't really cross me."
Share this article:
Source: Read Full Article