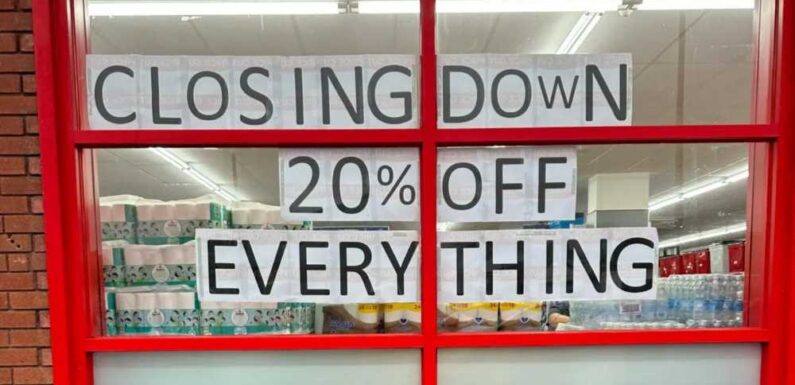 POUNDSTRETCHER have announced another of their stores is closing down, just two years after it opened.
The store in Ammanford, Wales, will join the long list of stores Poundstretcher are shutting across the UK.
Signs have appeared outside the store's windows offering 20 per cent off everything left in there.
It is devastating for the staff, especially in the run-up to Christmas.
The closure of the shop will have a big impact on the Welsh town.
Opened in 2021, Poundstretcher employed both full and part-time workers and donated £250 worth of vouchers to Ammanford Foodbank.
Read more on Poundstretcher
WINTER HELPER
Drivers are now realising £1 Poundstretcher item banishes window condensation
GIVEN A GRILLING
Poundstretcher sparks fury over 'appalling' £3 BBQ advert
Numerous retail giants have recently had to shut a number of their stores.
Wilko has been the most noticeable in recent weeks when they shut all 400 of their stores last month.
Over the last couple of years, the huge bargain chain has been shutting multiple stores across the UK.
Despite this Poundstretcher said back in February that they were hoping to open 50 new shops by the end of the year.
Most read in Money
BASKET CASE
Tesco introduces 'magic tills' in huge change that will end annoying moments
SAY CHEESE
Lidl shoppers are going wild for quirky advent calendar that is 'perfect'
EGG-CELLENT
Cadbury fans are 'obsessed' with new chocolate bar launching in December
HIGH STREET BLOW
Shoppers left devastated as wave of Boots stores close TODAY
The retail company had financial difficulties noticeably in March 2022 when 17stores were shut and over 1,000 retail staff were cut.
It was around this time Poundstretcher's profits had halved – yet, the company was still pushing for an aggressive expansion.
In July 2020 the store entered a legal arrangement which allowed the business to restructure and continue trading.
At the time, it closed 500 branches and paid around £13million of what it owed.
Now, the retailer is closing its stores across the UK and staff like the ones in Ammanford are paying the price.
Adam Price is the MS for Carmarthen East and Dinefwr and the area in which the closing Poundstretcher is located.
He told the South Wales Guardian: "I was deeply concerned to learn that the Poundstretcher store in Ammanford will be closing.
"I understand that there are many pressures affecting businesses at the moment, but this will come as a major blow to staff."
He added: "Redundancies such as this are never good news, but to come just before the Christmas period will be particularly difficult for staff.
"I hope that there is an alternative found soon so that staff can be sure of their future."
Poundstretcher stores that have shut or will shut
Poundstretcher have been shutting stores across the UK
Leyland
Ammanford
Romford
Grantham
St Austell
Penzance
Hinckley
Watford
Grimsby
Hatch Warren

Source: Read Full Article