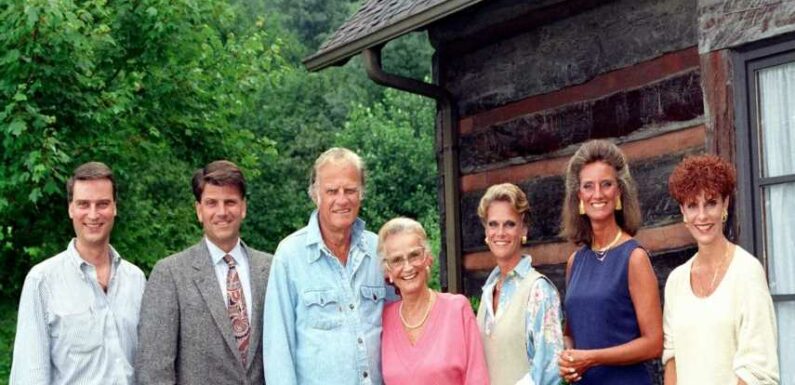 The evangelical Christian pastor grew up on a dairy farm, learning the importance of hard work, the environment and his relationship with God and made history with his passion. Billy Graham enrolled in the Florida Bible Institute, now Trinity College of Florida and preached his first sermon as a college student. From there, Graham served as a pastor for numerous churches across the country and eventually gained celebrity status with his radio and television programs in the mid-40's.
His famous 1949 crusades under a circus tent in an L.A. parking lot ran for eight weeks and launched a movement, bringing millions to hear his preaching. In 1950, Graham established the Evangelistic Association in Minneapolis, MN.
According to Celebrity Net Worth, the pastor had the opportunity to advise many famous figures in history. From the civil rights movement (which he wholeheartedly supported) and his friendship with Martin Luther King Jr., to serving as spiritual advisor for 12 U.S. presidents, from Harry Truman to Barack Obama.
His wife of 64 years, Ruth, passed away in 2007 and Graham passed away at the age of 99 in 2018, however, with five children and 19 grandchildren, his mission has not been forgotten. At the time of his passing, Graham held a net worth of $25 million and his family is following in his footsteps.
What are Graham's children and grandchildren up to today?
8

Virginia "Gigi" Graham – $1 Million

A post shared by Jessica Radford Photography (@jessica_radford_photography)

Gigi Graham is the oldest of Billy and Ruth Graham, born in 1945. She is a motivational speaker and author of at least 10 books, including "A Quiet Knowing" and "Diapers and Dishes or Pinstripes and Pumps: Christian Women in a Changing World". She's been married three times and has seven children and 20 grandchildren. What surprises many is her willingness to share her experiences and she admits she's a work in progress. She's currently married to childhood friend, Jim Wilson and serves as a family representative of The Billy Graham Evangelistic Association (BGEA).
7

Anne Graham Lotz – $1.5 Million

A post shared by Anne Graham Lotz (@annegrahamlotz)

The second daughter of the Graham's is a Christian speaker and founder of Raleigh-based AnGeL Ministries. According to Samaritan's Purse, Lotz has held area-filled revivals, leading women to a deeper relationship with their Christ. She's an author of several books, including the best-selling "Just Give Me Jesus" and is a mother of three. Her husband, Dr. Daniel Lotz passed away in 2015 and Lotz continues to serve on the board of directors of the BGEA.
6

Ruth Graham – $5 Million

A post shared by Litchfield Books (@litchfieldbooks)

The third daughter born to Ruth and Billy Graham is Ruth or Bunny as her family called her and is the founder of Ruth Graham Ministries based in Virginia. According to Citizen Times, Ruth has shared she had a daughter who developed an eating disorder, another who had two children out of wedlock in her teens and her son has struggled with drug addiction, proving that all families have their dysfunction. She was the last of the Graham's five children to enter the spotlight, and spent years as an editor of Christian books and relief worker.

RELATED: Millionaire Pastors And Their Celebrity Lifestyles
5

Franklin Graham – $10 Million

A post shared by Franklin Graham (@franklin_graham)

Perhaps the most visible of the Graham children and one of the richest pastors in the world, Franklin serves as president of Samaritan's Purse, as president of the BGEA and like his father, the 70-year-old has written many books. The inspirational speaker has been criticized for his outspoken comments during times of political unrest and global crisis. Franklin and his wife Jane have three children. He received the Presidential Medal of Freedom in 1983.
4

Ned Graham – $1 Million

A post shared by The Belief It Or Not Podcast (@beliefitornotpodcast)

The youngest of the Graham family has contributed to his father's mission in a unique way. He serves as president of East Gates International, a small ministry focusing on distributing Bible's to Chinese Christians, offering discipleship training, church building and other social welfare projects. Through his work, Ned has become a political diplomat, developing relationships with Chinese Communist Party leaders and the China Christian community. He and his wife Tina have two sons.
3

Tullian Tchividjian – $1 Million

A post shared by Dr. Lawrence Powell (@dr.lawrencepowell)

Born William Graham Tullian Tchividjian, he's the son of Billy's eldest daughter Gigi. He founded the New City Presbyterian Church in Florida among others. After admitting several extramarital affairs, Tchividjian was rejected from his leadership positions but continues to share the gospel at an independent church, The Sanctuary in Jupiter, FL. The grandson of Billy has also authored several books, including "Jesus + Nothing = Everything".
2

Jonathan Lotz – $1.5 Million

A post shared by Linha Aberta Magazine (@linhaabertamagazine)

The son of Anne Graham Lotz has quite the testimony to share. He survived cancer, divorce, unemployment and a serious COVID infection, yet Jonathan continues to share his message through Jonathan Lotz Ministries. The nearly seven foot tall pastor has served on the staff with the BGEA, the Fellowship of Christian Athletes, Build a Village and Park Cities Presbyterian Church. What's more, he's a fan of his employer Chik-fil-A because of their Christian values and policy to stay closed on Sundays.
1

Will Graham – $5 Million

A post shared by Will Graham (@willgraham_4)

The oldest of four children of Franklin Graham, William "Will" Graham is named after his grandfather. He is the executive director of the Billy Graham Training Center and an associate evangelist of the BGEA. Like his grandfather and father, Will has led crusade-like events in Canada, Australia, England, Tanzania and many more locations. In 2018, he played the role of his grandfather in the film Unbroken: Path to Redemption. Also, in 2018 the pastor published his first book, "Redeemed: Devotions for a Longing Soul". Will and his wife have three children, including a son, William Franklin Graham V.

READ NEXT: Inside Pastor Jesse Duplantis' Multi-Million-Dollar Homes

Sources: Celebrity Net Worth, Samaritan's Purse, Citizen Times

Source: Read Full Article