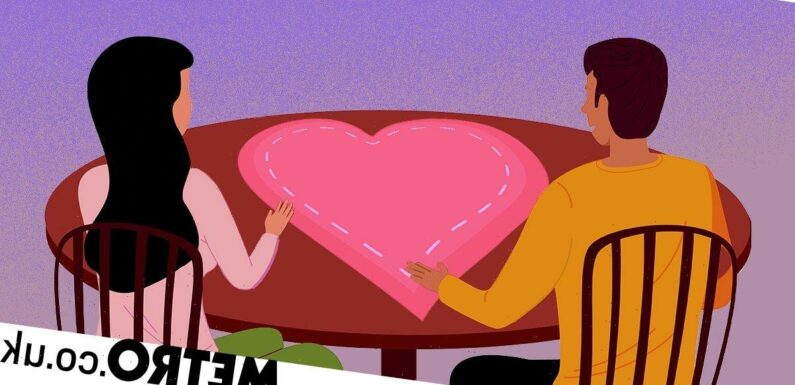 There are lots of tools we use in life to make sure things are ticking over smoothly.
We have regular check-ups at the doctor, and trips to the dentist. The sensible among us keep an eye on tyre pressure and the oil in our cars.
But when it comes to our relationships, we often simply enjoy the ride, and hope for the best.
Sex educator and author, Ruby Rare, took to Instagram this week to share the news that she was celebrating her anniversary with her partner and, as is their yearly tradition, the pair will be conducting a 'relationship appraisal.'
'We are going to do what we always do, which is a relationship appraisal. We do this every anniversary,' she explained.
'I love doing these. It's a really nice way to reflect on what the last year has been like, and a nice neutral space to talk about what's gone really well and also what hasn't gone well, and what you might want to improve and work on.'
https://www.instagram.com/p/CnRJIKbBLET/
Ruby and her partner use various subheads as discussion points: their favourite moments, successes, challenges, improvements for the year ahead, and goals for next year.
While a relationship audit might seem like something you only need to do when you feel like things are going wrong, that's not the case.
Dating and relationship expert Hayley Quinn, from Match, tells Metro.co.uk that there are huge benefits to checking in on your relationship in this way.
'On paper, a relationship audit doesn't sound like much fun, but rather than letting issues build up, feeling safe to verbalise your needs is important.
'You can build real emotional intimacy by being candid with your partner, and acknowledging what they bring to the relationship. 
'And, if you're feeling like your relationship is just ticking over, and that some of the spark has gone, an "audit" may give you both a prompt to become more creative and invest in the quality of the relationship overall.'
But be warned. An appraisal has to be approached with caution – otherwise it could have a detrimental affect on the relationship.
Hayley explains: 'An "audit" has to go both ways. If one of you is perennially frustrated by the relationship, whilst the other one is happy to go with the flow, an audit could be perceived as an opportunity to be punitive, rather than an opportunity to nourish the relationship.
'Likewise, if you spend more time talking about the quality of the relationship, than being present and actually experiencing it, you may find that both people will lose motivation to continue the relationship.
"No one is going to love being hit with a list of perceived demands over an anniversary meal, however, taking an evening out, now and again, to stop watching Netflix and to really engage with one another, should help you both to stay tuned in to your needs.'
It's also a golden opportunity to check in with your relationship with yourself. 'Remember self-love is a really important element of a successful relationship,' says Hayley. 'Loving yourself means you can give and receive more love, so as part of your audit, make sure you prioritise any changes that are going to make you feel even more positively about yourself, as well as your relationship with someone else.'
Do you have a story to share?
Get in touch by emailing [email protected]
Source: Read Full Article