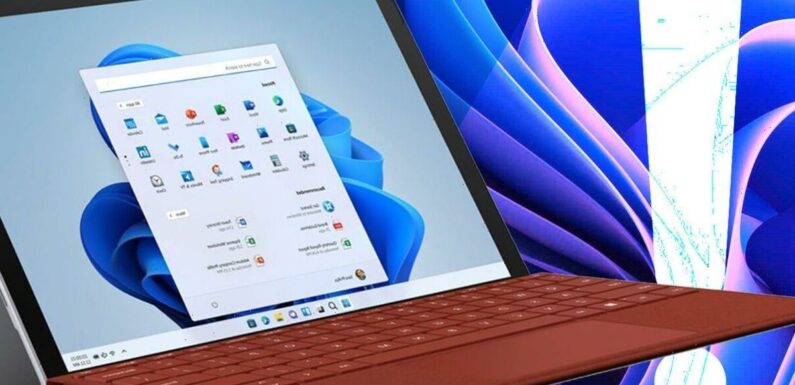 We use your sign-up to provide content in ways you've consented to and to improve our understanding of you. This may include adverts from us and 3rd parties based on our understanding. You can unsubscribe at any time. More info
It appears that Microsoft is now on a serious campaign to get everyone moved across to its very latest Windows 11 operating system. Just this week, the US company confirmed that it will no longer offer Windows 10 on its official store meaning anyone who is still using older Windows 7 or Windows 8 software will have to make the jump straight to Windows 11.
However, even if you are a long-time Windows 10 user it seems that you still won't escape the nudge to upgrade. As spotted by the team at Windows Latest, Microsoft is targeting PCs with full-screen adverts that suddenly pop up in an attempt to get devices switched over to Windows 11.
Screenshots posted on the Windows-centric site show the message which reads, "Now unlocked: You're eligible for a free upgrade to Windows 11." This is followed by two prominent buttons to either get it now or schedule the 4GB download for later.
At first glance, it appears there is no way to stop the upgrade although hidden right at the bottom of the screen is the option to "Keep Windows 10".
Annoyingly, even when you do tap the "Keep it" option, you're then taken through a number of windows which offer advice on why you should make the switch.
CES 2023: Dave Snelling looks at the newest tech in Las Vegas
In fact, there are around four alerts to clear before you're finally taken back to your Windows 10 desktop. This irritating pop-up appears to have launched as part of a recent Microsoft upgrade and it's sure to infuriate anyone whose screen is targeted by them.
Although millions seem happy to stick with Windows 10, that may not be the case for much longer.
Microsoft has confirmed that it will end support for this operating system in 2025 which is only two years away and that's bad news for anyone with it installed on their devices.
As the firm explains on its Windows support pages, "Once a Microsoft operating system (OS) reaches the end of support, customers will no longer receive technical assistance, software updates, or security fixes.
"We recommend upgrading to a version of Windows that is still supported," Microsoft said. "A new device that can run Windows 11 makes for an easy transition and a great experience."
Don't forget, if you want to switch to Windows 11 you'll need to make sure your PC is compatible and includes a fast enough processor and something called a TPM 2.0.
TPM stands for Trusted Platform Module and is a security feature built into hardware that you'll only find on newer devices.
Full specs below
Source: Read Full Article