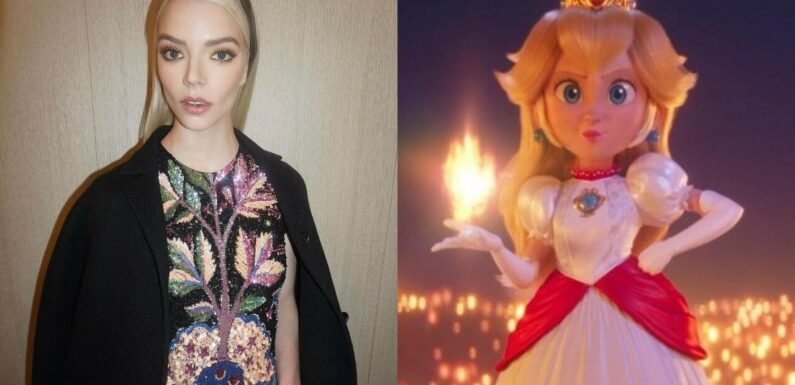 The 'Queen's Gambit' actress refuses to portray Princess Peach as a damsel in distress 'The Super Mario Bros. Movie' and is grateful that everyone is supportive of her take.
AceShowbiz –Anya Taylor-Joy was on a mission to play a "modern" Princess Peach. The 26-year-old actress lends her voice to the character in "The Super Mario Bros. Movie" but took the role on the basis that Peach would be more than the damsel in distress that she is presented as in the Nintendo video games.
"When I was first approached about playing Peach, I was A) extremely honoured, but B) a little bit hesitant just because in my head, before I met everybody, I thought, 'Oh, I really want to do this, but I only want to do it if she is a modern – not only princess, but ruler,' " Anya said to Slash Film. "She's really a leader in this. I felt like we could create a more three-dimensional character that had her own agency."
The new take on Princess Peach does not need to be rescued and Anya was pleased that the crew felt the same way about the development of the character.
"The Menu" actress said, "I was so thrilled when I first met everybody that everyone was on the same page. We all wanted to do the same thing. That just made for a very exciting process because there are moments where I did want to call back to the original game and have that fandom payoff in that way."
"But also, it wouldn't have worked for the whole of the movie. She's a three-dimensional character now. You have to have colours in her voice. I just feel very grateful that I was supported every step of the way and there wasn't any pushback."
Video game movie projects have thrived in recent times and Anya believes that the passion of the cast and crew will make the Mario movie a success. She said, "It's fans making movies for fans, if that makes sense. At least, that's the way it feels in this film."
"Everyone's a fan. Everybody wants to deliver that fan experience that I think they're looking for themselves. If you're making movies in that way, if you're making movies in a way to… I don't know, fulfill some need, then, naturally, people are going to love it."
You can share this post!
Source: Read Full Article