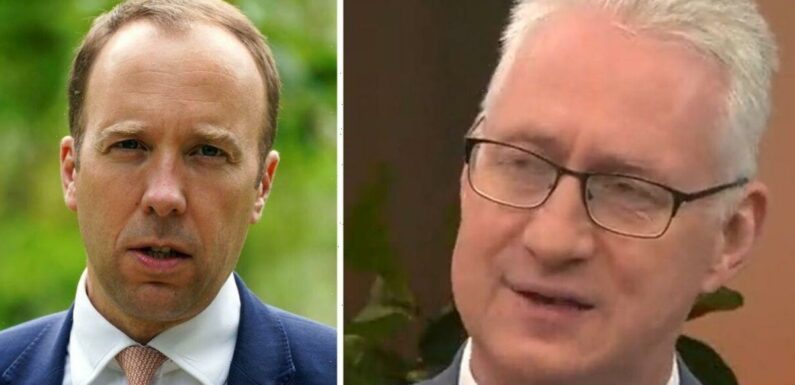 I'm A Celeb: Ant and Dec react to cast of 2022
We use your sign-up to provide content in ways you've consented to and to improve our understanding of you. This may include adverts from us and 3rd parties based on our understanding. You can unsubscribe at any time. More info
On Tuesday morning it was announced that former Cabinet member Matt Hancock would be heading into the Australian outback to join the cast of this year's I'm A Celebrity line-up. He faced a hoard of backlash from members of the public as well as his former colleagues, with many remembering the trouble he got into over some decisions he made during the coronavirus lockdown. Now, Lembit Opik has stepped out and defended his decision claiming he "shouldn't be punished".
Lembit joined GB News presenters Paul Hawkins and Isabel Webster on Wednesday morning to put forward his opinion on Matt's stint in the ITV reality show.
Paul asked: "Lembit can we start with you, should he be appearing on I'm A Celebrity?"
Confidently, Lembit explained: "Yes! Absolutely, I did it in 2010, I wasn't an MP but I would have done it if I had been reelected.
"Not because of the reason that he said about reaching out to the public, I did all that for the country in 2010 and it made no difference let's be honest.
"You don't go into I'm A Celebrity to re-engage politics and the public, but what it should be able to tell you is politicians make decisions and they have to have some authority to have that relationship with their constituents.
"If the constituents don't want him then they vote him out, and it is not for us to preach in a woke way that this man is a terrible former cabinet minister and should now be punished and should be sitting in ashes for the mistakes he made during covid."
Adding on to his point, Paul said: "Is anyone saying that or are they saying he should be serving his constituents?"
Lembit continued: "No he was told he had to be home, contemplating the mistakes he made during covid and he did make mistakes in covid but that is a different thing.
"Whether he was a good or a bad cabinet member is a different matter as to whether he should be in the jungle.
"The other thing is no one can pretend that politicians are banned from reality TV, I just did Have I Got News For You, it wasn't strictly necessary!
"So it is a matter of degree, I seem to be the only person in Britain defending Matt Hancock I have to say but how churlish is it when you just want to squeeze the life out of someone like Matt Hancock because people think he did a bad job as a cabinet member."
Isabel jumped in on the conversation and quipped: "Do you think it is more that actually he has been jilted now and it was quite clear that Rishi Sunak is not going to put him back in the cabinet?
"He sees that he is not going to get onto any select committees so he is just thinking 'you know what I am just going to head down to the jungle and cash in'.
"That might be why people are annoyed because he is still getting a good salary, £80,000 or so as an MP!
"And what happens if you are a constituent and you have a crisis in west Suffolk? You can't get hold of him he is in the jungle!"
Lembit expressed: "His motivation and you are probably right, he thought 'well I have been a cabinet minister, I'm not going to get back in there'.
"Even though Nadine Dorries did get back after being in the jungle and then is he messing up as an MP? What is the difference in doing this and being at say Barbados like Boris Johnson was with the family?
"If you are away for four weeks in the far end of the world, you are still not going to be here!"
"I bet you there is a break clause, in fact, I have it on good authority that there is a break clause, then he will be allowed out to fix that problem on a matter of judgement," he concluded.
Breakfast with Eamonn and Isabel airs Monday-Thursday from 6am on GB News.
Source: Read Full Article