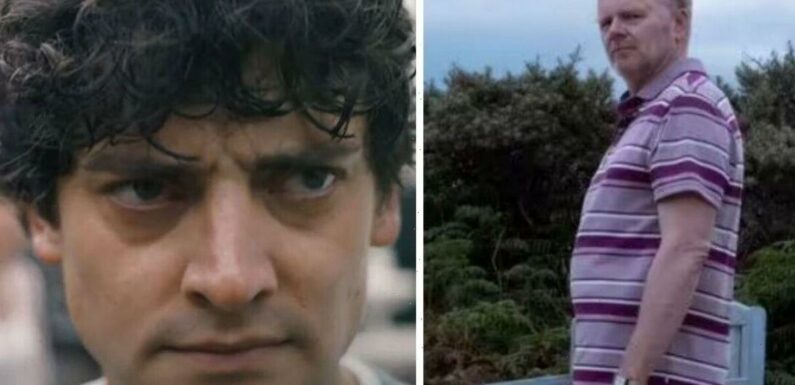 The Catch: Jason Watkins stars in Channel 5 drama
We use your sign-up to provide content in ways you've consented to and to improve our understanding of you. This may include adverts from us and 3rd parties based on our understanding. You can unsubscribe at any time. More info
The psychological thriller series focuses on Ed Collier (played by Jason Watkins), who has never been able to move past the tragic death of his son. His concerns soon switch to his daughter, Abbie (Poppy Gilbert), when she starts dating a mysterious Ryan Wilson (Aneurin Barnard). However, those tuned into the new series were left divided just minutes into the first episode, with some labelling Channel 5's newest series as "contrived".
In the four-part crime drama, Ed and his wife Claire (Cathy Belton) are grieving their son Josh (Jacob Hickey).
Ed blames himself for Josh's death, and is now obsessive about losing Abbie thanks to Ryan's suspicious behaviour.
The worried father overhears concerning conversations and even follows Ryan, snapping photos of him acting strangely, but whenever Ryan is confronted by him, the young man has plausible explanations.
Ed comes across as more and more unstable as he is determined to catch Ryan out, while his daughter is being pushed further away.
The episode ended with Ed making a startling discovery on his boat – is Ryan behind it?
While many seemed to tune into the new drama, not everyone was gripped by it.
Several took to social media to see if anyone had "struggled" to watch.
Twitter user @Rozzy67 wrote: "#TheCatch anyone else struggling to get into this?"
@ElvidgeFelicity commented: "Very forced…contrived and stilted.
"Why does the humble fisherman live in a million-pound home? Why does the acting seem so forced? Why is the script so bad? Why isn't this #happyvalley #thecatch."
Responding, @Bambabalino explained: "House is his mother-in-laws, but the rest… nope, no answer."
@Hughesy53 echoed this, posting: "D'you know what – I reckon #HappyValley has set the bar so high I'm beginning to find other tv dramas a bit 2dimensional… #TheCatch." (sic)
"Why is the editing so weird in Channel 5 dramas? #thecatch," @demelcy asked.
However, some seemed intrigued by the storyline, with @flicksfan adding: "#TheCatch drama series on Ch5 got off to a great start. Who IS the daughter's suspicious new boyfriend?
"Who's sabotaging the boat? Stylish mystery against a stunning backdrop."
@Flumps96 praised: "Really enjoyed that 1st ep of #TheCatch @channel5_tv look forward to next week I'm with Ted don't trust Ryan either." (sic)
It seems the drama will escalate next week, with more questions about Ryan set to be raised.
The episode two synopsis reads: "Still reeling from the discovery he made on the boat, Ed confides in Bob, who tells him that he has CCTV footage which suggests George could be behind the sabotage.
"Desperately seeking answers, Ed decides to contact his old navy comrades, and also secretly employs the services of a private investigator.
"Later, on a boat trip with Ryan, Ed receives a disturbing phone call from George."
The Catch continues on Wednesday at 9pm on Channel 5.
Source: Read Full Article