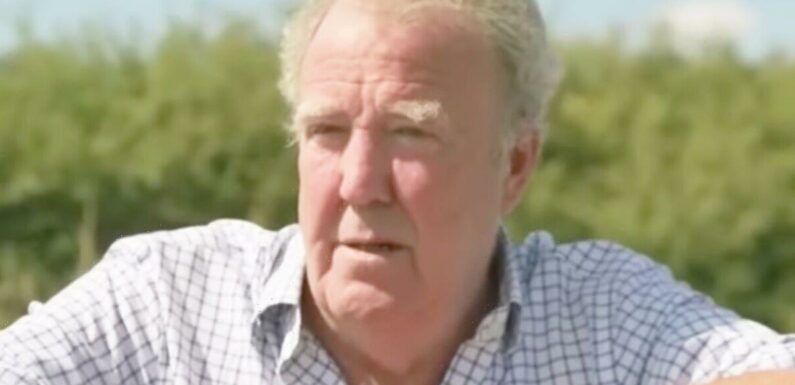 Clarkson's Farm's Emma overwhelmed by donations from fans
We use your sign-up to provide content in ways you've consented to and to improve our understanding of you. This may include adverts from us and 3rd parties based on our understanding. You can unsubscribe at any time. More info
Jeremy Clarkson proved his bond with Pepper was stronger than he had with the other animals on the farm in the final moments of Clarkson's Farm season two. After Pepper failed to breed and was rendered useless by those around Jeremy, all the business advice pointed towards taking her off the farm. But Jeremy stood firm and told his other half Lisa Hogan he'd be keeping Pepper as a pet.
But given it's been months since the Clarkson's Farm cameras stopped rolling on season two, many fans feared the worse for Pepper.
After all, those around Jeremy, including Kaleb Cooper, pointed out it didn't make sense to keep a cow on the farm who couldn't provide calves and, ultimately, a profit for the business.
But it appears Jeremy has stood firm on his stance to keep Pepper thanks to a new update from Diddly Squat.
The farm shop's official Instagram page shared a snap of Pepper on the farm and confirmed she was still alive and well grazing on Jeremy's fields.
Alongside a snap of Pepper, the caption read: "Pepper is alive and thriving! Thanks for all the [cow emoji] love & concern."
Inevitably, it didn't take long for Clarkson's Farm viewers to react to the update with several relieved responses.
Instagram user @kayineson replied: "Pepper!! It's official she's a national treasure and must be protected."
While @drumhead89 echoed: "Not to be dramatic, but I would die for pepper."
View this post on Instagram

A post shared by Diddly Squat Farm Shop (@diddlysquat.farmshop)
Elsewhere, @ina_ollej2 praised Jeremy: "I have so much respect for Jeremy Clarkson keeping his word! Made my day."
And @amanda.chambers.184 weighed in: "Wonderful to see! Really have a soft spot for this lovely girl, the best moment of S3 was hearing you now have a pet cow!
"Edge of your seat stuff! Next, you need the Pepper plush toy for your farm shop, £30 with any vegetable item."
Fellow fan @maehoward was similarly relieved, typing: "Thank the lord, I can breathe easy I love that little cow." (sic)
DON'T MISS:
Jay Leno wows fans as he shows off 'new face' after horrific accident
Jeremy Clarkson 'kicked under table' by partner Lisa for ogling girls
Jeremy Clarkson skewers claims he's been 'sacked from Millionaire'
And @flowerfungifrolicking added: "This makes me so happy. Love love both of the series made so far, and has honestly made me laugh, and being a tear to my eye!
"Thank you for shining a light on the farming world and for everything you guys do!"
Pepper provided one of the most memorable moments from Clarkson's Farm season two when Jeremy went against advice to keep her on the farm.
After discovering she wasn't with child and was the right weight for slaughter, Kaleb told him: "We pick the one that's not pregnant.
"She's the right weight to go whereas the other ones need at least another two (or) three months."
Even Lisa weighed in to suggest Pepper had to go and told Kaleb: "You shouldn't have favourites."
Charlie Ireland even questioned Pepper's "usefulness" on the farm but Jeremy refused to budge.
"F**k it," he yelled in season two's final moments. "Lisa! We've got a pet cow!"
Clarkson's Farm seasons 1-2 are available to stream on Amazon Prime Video now.
Source: Read Full Article