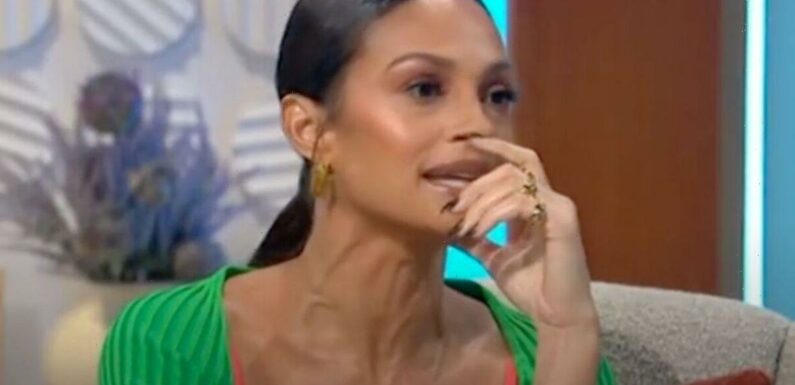 ITV Lorraine: BGT's Alesha Dixon jokes that she has 'Bruno bruises'
We use your sign-up to provide content in ways you've consented to and to improve our understanding of you. This may include adverts from us and 3rd parties based on our understanding. You can unsubscribe at any time. More info
The pair previously sat alongside one another on the Strictly Come Dancing judging panel and now they are front and centre of Britain's Got Talent. Alesha Dixon opened up on reuniting with Bruno Tonioli, joking he is "uncontrollable" and caused the judges to "throw out the rule book".
Speaking to Lorraine Kelly on her ITV show, Alesha added she had "Bruno bruises" from where he'd excitedly grabbed her arm.
Lorraine remarked: "Bruno is kind of uncontrollable in a slightly different way.
"Does he have the hang of the rules now? Does he know what's going on?"
"Yes," Alesha replied. "I had a few Bruno bruises as I like to call them. He likes to grab the arm.
"I don't think he's got the rules yet, no. I think after day two, we just turned to each other and said, 'Let's just throw the rule book away.'
"This is the year of anything goes. It became the theme of the series."
Lorraine agreed: "Good idea. It's a really good feel good show."
Alesha went on to tease the level of talent on the new series, sharing: "Every single year without fail you are seeing something you've never seen before.
"After doing it for 10 years people ask surely you're running out of talent?
"Absolutely not, if anything it is the opposite, people get more inspired.
"I think after the few years we've had, people are desperate to have the opportunity to be on stage and do what they love and this year the talent is phenomenal."
Bruno took over as a judge from David Williams, who stepped down after "vile" comments he made about contestants were made public.
DON'T MISS…
Ant and Dec admit they 'love and miss' David Walliams despite backlash [INTERVIEW]
AGT All-Stars finale sparks 'rigged' row with 'Superfans' vote [REACTION]
BGT's Ant and Dec 'apprehensive' about series without David Walliams [LATEST]
Hosts Ant and Dec have admitted they were "apprehensive" about Bruno taking over from David.
Speaking to HuffPost, Ant explained: "We text a lot, we see him socially.
"So, we were really kind of apprehensive about starting this new series.
"But on the first day of auditions, we thought, 'We've got to just treat Bruno like the new guy and be kind to him.'"
Ant added he "felt sorry" for Bruno who was incredibly nervous on his first day.
"He's no stranger to big TV shows. So I felt sorry for him, but I thought it showed real humility," the host shared.
"We were just kind to him. We laughed at him when he made mistakes but tried to show him the ropes a bit."
Lorraine airs weekdays on ITV from 9am.
Source: Read Full Article