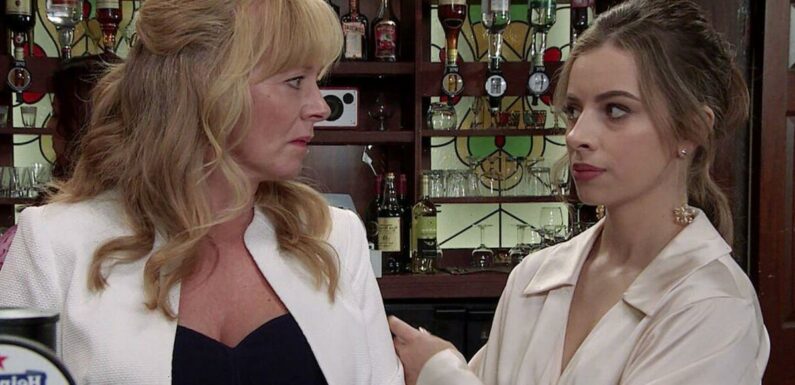 Coronation Street: Stephen lunges at Leo after being confronted
We use your sign-up to provide content in ways you've consented to and to improve our understanding of you. This may include adverts from us and 3rd parties based on our understanding. You can unsubscribe at any time. More info
Jenny Connor (played by Sally Ann Matthews) was happy to hire Glenda Shuttleworth (Jodie Preener) as she prepared to head off to Canada with lover Leo Thompkins (Joe Frost). While Coronation Street fans know Leo is dead, Jenny believes he has simply left Weatherfield without her. She resigns herself to staying on the cobbles but starts to fear Glenda is after her job as Rovers Return landlord.
In upcoming episodes, Glenda arrives at the pub dressed up to the nines and ready to host the quiz.
She's left furious though when Daisy Midgeley (Charlotte Jordan) announces Jenny is feeling better and will be hosting instead.
Glenda gets back to her regular duties, which includes mopping the floor.
Later, Jenny slips and twists her ankle on Glenda's recently mopped floor.
Jenny insists she can go ahead with the quiz but Daisy declares she must go to the hospital to be checked over.
As Jenny hobbles out of the Rovers Return, Glenda excitedly grabs the microphone, thrilled to be hosting once more.
When Daisy and Jenny return, they hear Glenda's quiz went down a storm with the locals and the landlady is heartbroken.
Jenny is told to rest up and not do anything too physical meaning she's not able to be interacting with the locals behind the bar.
Furious with how Glenda has stepped into her shoes, Jenny confesses to Daisy she believes the newcomer planned her accident.
Is Glenda trying to take the Rovers from Jenny and will she succeed?
It would certainly be a blow for Jenny if she'd not only lost her lover but also the bar she has called home for years.
Fortunately, she could be comforted by killer Stephen Reid (Todd Boyce) as actress Sally hinted her character could fall for the con man.
She explained: "I think Stephen is certainly showing Jenny a lot of attention and that is making her feel good.
"She's not ready for a relationship but whether it's just Stephen being there. It's similar to Leo after Johnny died.
"Leo was there a lot and just kept coming back and being a constant and I think that's the biggest thing for Jenny."
Sally explained Jenny will blame herself for not jumping into the relationship with Leo from the start.
It's for this reason she decides to jump into a romance with Stephen as she doesn't want to lose someone to comfort her.
"[He] is being there and being kind and attentive and all of those things," Sally told Digital Spy.
"She might just go 'Do you know what? I'm not going to do what I did last time and I might just dive in with my size nines'. Who knows?"
Coronation Street airs Monday, Wednesday, and Friday on ITV from 8pm.
Source: Read Full Article