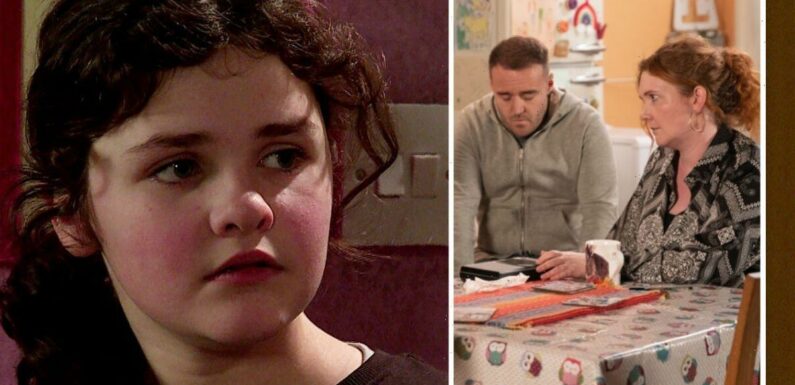 Coronation Street: Harriet teases Summer's storyline
We use your sign-up to provide content in ways you've consented to and to improve our understanding of you. This may include adverts from us and 3rd parties based on our understanding. You can unsubscribe at any time. More info
Hope (played by Isabelle Flanagan) previously began to wonder about the trouble her father, John Stape (Graeme Hawley) caused as he ran riot around Weatherfield. Official Coronation Street spoilers reveal that Fiz Stape (Jennie McAlpine) gets the fright of her life when discovering a horrible secret her daughter had been hidden from her.
In upcoming scenes, Sam Blakeman (Jude Riordan) finds Hope in the café listening to her John Stape cassette.
Hope explains that by hearing her Dad's voice, she hopes to get to know him better, but is soon left devastated when back at home the tape unspools.
Tyrone Dobbs (Alan Halsall) manages to sort it out but when he presses play he and Fiz are horrified as John Stape's voice fills the room.
Sam explains how Hope listens to the tape of her Dad in a bid to get to know him, but they are unsure of her unorthodox ideas.
Fiz and Tyrone decide that it would be good for the girls to have a pet to look after, with Fiz having a fish or hamster in mind.
As Tyrone and the girls return from the pet shop with Cilla the chinchilla. Fiz is unimpressed and fumes at her husband.
Fiz and Tyrone watch as Hope bonds with Cilla the chinchilla, optimistic that it could be a new beginning as she's clearly smitten with her new pet.
The pair return home hoping for an afternoon lie down, but the mood is broken when they discover the house smells of chinchilla poo.
By getting Hope a pet, Fiz and Tyrone are hopeful that she will stop looking into her father's past, but is it too late?
Coronation Street boss Iain McLeod recently spoke to Express.co.uk and other press about the upcoming storyline and admitted Hope continues her "toxic curiosity".
He explained: "Her surname is still Stape, which is mad but there we go this is the world that we live in.
"She has still got her late father's name and she does start to dwell on her dad, she had a little bit of corrupted information on John from her half-sister Jade.
"But really she doesn't know the half about John and she develops this increasingly toxic curiosity about her dad that leads to something fairly interesting.
"She becomes sort of obsessed with John in a way that upsets Fiz and Tyrone, they themselves, their troubles are behind them.
"But as a parent, the troubles are never entirely behind you, so yeah there is some difficulty parenting Hope going forward.
"And without giving too much away, Hope's troubled behaviour ends up in a fairly acrimonious feud with one of the neighbours which involved a Chinchilla.
"That is the tone we are setting with that family next year, there are difficult bits and Hope's behaviour will become increasingly difficult over the course of the year.
"But also some very light-hearted bits."
Will Fiz and Tyrone get a handle on Hope's behaviour or is she walking down a dark path?
Coronation Street airs Monday, Wednesday and Friday from 8pm on ITV.
Source: Read Full Article