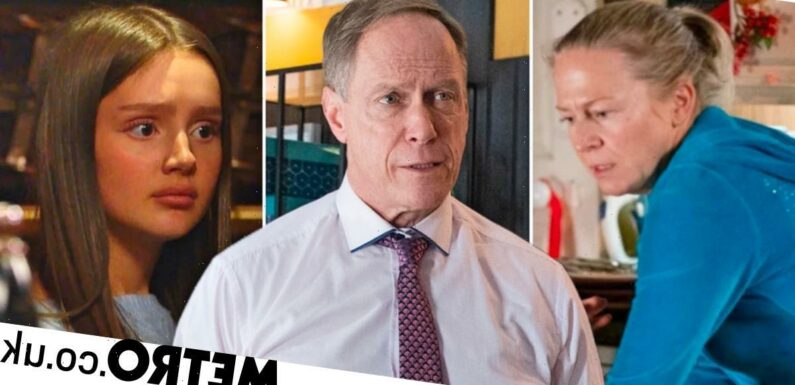 It's a week of shocks in soapland, with huge discoveries and surprise developments on the cards for some of the genre's finest.
Prepare to be stunned.
EastEnders sees Linda Carter return to Walford, much to the shock of its residents, but there's more heartache ahead for the landlady as the police stop by the pub.
Is there news about Mick's tragic fate, following his disappearance at Christmas?
Coronation Street killer Stephen Reid, meanwhile, claims another victim in upsetting scenes, while Emmerdale's Sarah Sugden puts two and two together where Mackenzie Boyd and Chloe Harris are concerned.
Can they throw her off the scent?
Over in Hollyoaks, Juliet Nightingale receives big news, and there are a number of new faces in the village – one of which you may recognise from Neighbours!
It's going to be another unmissable week in serial drama, and here's all the deets on why tuning in is a MUST.
Linda returns to EastEnders and gets a big shock about Mick
Alfie decides to re-open the Vic for Linda, swiping the keys from Denise, who is horrified to discover the pub full of customers. Kim, meanwhile, tells Sharon that the Vic has been re-opened, so Sharon makes a phone call to Linda, who subsequently returns, accusing Alfie and her fellow neighbours of not caring that Mick is dead. Alfie, determined to make things right, gathers Mick's friends to surprise Linda with a vigil for her lost lover. But things take a turn when the police show up.
Stephen claims another victim in Coronation Street
Teddy's memories come flooding back and he remembers information about his showdown with Stephen, much to Stephen's horror. Conflict ensues, with Teddy later cornering Stephen in the factory, revealing that he reckons the killer is behind Leo's death. Stephen retaliates, hitting Teddy over the head, claiming another victim.
Chloe catches Mack and Chloe out in Emmerdale
Desperate to get rid of Chloe, Mackenzie pays for the deposit on a flat, hoping she will leave his home. Chloe, however, is not too pleased and an argument ensues, with Sarah witnessing some of it from afar. Suspicions piqued, Sarah asks Chloe is Mack is the dad, but Chloe covers her tracks well, before telling Mackenzie to pull himself together, remarking how Sarah almost worked out the truth.
Juliet receives big cancer results in Hollyoaks
Juliet tells Peri that she received some good news from the test results but is all as it seems. Later, Peri and Juliet turn up to the party at Prince's house, and Juliet drowns her sorrows which leads to her rushing out abruptly.
Lily makes a decision about her baby in EastEnders
Desperate Martin begs Stacey to support him in talking Lily into having an abortion, but she refuses. Having spoken to oblivious Whitney about motherhood, Lily comes home and says she's made a decision.
Mike dead in Coronation Street?
Mike opens the door to the nursery to find Summer unconscious. Esther calls an ambulance, while Mike gives a false name to the hospital, but Aggie informs Billy and Paul about the developments and they subsequently arrive, demanding answers. Mike later stops by the hospital again, and Paul and Todd confront him about it at his home, with Paul lashing out, attacking Mike, who hits his head. Is he dead?
Gabby tries to kiss Nicky in Emmerdale
Gabby's idea about expanding the businesses to schools goes down a storm with local councillors, including Nicola, and she subsequently celebrates with a drink, before trying to kiss Nicky. Nicky pulls away, but Dawn witnesses the awkward exchange. Spiteful Gabby later calls Dawn a 'prostitute' in front of Lucas and Clemmie, leaving her in tears.
Newcomers Lacey and Rayne arrive in Hollyoaks
Prince and Hunter make a pact to stay away from girls – just as newcomer Rayne turns up on a motorbike! Lacey, meanwhile, arrives to the village for a job interview with James at Dee Valley Law. She admits how passionate she is about the job and wanting to help people, but she doesn't feel confident about her chances when James is far from enthusiastic.
Zack takes responsibility in EastEnders
Zack is rattled during the tasting at Walford East and, after cutting his hand, he storms out, realising he needs to face up to things. After a conversation with Martin, he steels himself to take responsibility.
Fiz and Tyrone's John Stape nightmare continues in Coronation Street
Hope is devastated when the tape featuring John's voice unspools, but Tyrone comes to the rescue, unaware of what the tape is. When he and Fiz press play, they're horrified to hear the killer's voice.
Coronation Street airs Mondays, Wednesdays and Fridays at 8pm on ITV. EastEnders airs Mondays to Thursdays at 7:30pm on BBC One. Emmerdale airs Mondays to Fridays at 7:30pm on ITV. Hollyoaks airs Mondays to Fridays at 7pm on E4, with first look episodes daily on All4.
If you've got a soap or TV story, video or pictures get in touch by emailing us [email protected] – we'd love to hear from you.
Join the community by leaving a comment below and stay updated on all things soaps on our homepage.
Source: Read Full Article