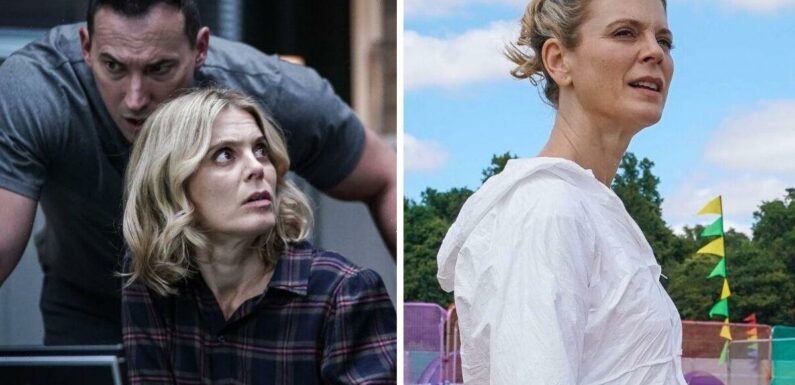 Silent Witness: Nikki Alexander performs an autopsy in May
We use your sign-up to provide content in ways you've consented to and to improve our understanding of you. This may include adverts from us and 3rd parties based on our understanding. You can unsubscribe at any time. More info
Series 26 of Silent Witness made a return last week, with the third instalment set to air tonight. In the first part, Dr Nikki Alexander (played by Emilia Fox) and the team are faced with a new investigation after an abandoned lorry was found at a quarry with several dead and dying people in the back. At first, it appeared to be a case of sex trafficking, but it soon became clear that all is not as it seems.
With the survivors refusing to speak, Nikki and the team use their pathological and forensic skillset to identify the deceased and piece together what really happened.
The BBC series celebrated its 25th anniversary last year and saw the return of Sam Ryan (Amanda Burton).
However, speaking in an exclusive interview with Express.co.uk, Emilia discussed her future on the show as Nikki Alexander.
She went on to speak about whether the show could ever come to an end.
"I never expected to still be playing Nicki Alexander 18 years later, but I still love the show as much as when I first started on it," Emilia began.
"So, it's really thanks to the loyal fans of Silent Witness and the enthusiasm for the show means that it is still [being] made."
"And I love it, and if audiences love it, and then hopefully it will carry on being made but you never know," the actress continued when discussing the future of the show.
In the previous series, viewers saw Nikki and Jack's relationship develop from friendship to romance.
"Now that we are in a series where you've seen Jack and Nicky's friendship move into a closer relationship and how that works," Emilia explained teasing fans with what they can expect.
"You know when you've known someone for a long time but you're suddenly in a relationship, does that make it more difficult?
"And what will happen to them, so I look forward to seeing what the writers come up with me in the future."
While Emilia has no plans of leaving the show any time soon, she tried her hand at presenting a true crime documentary last year.
The series titled, Murdertown, saw the actress visiting different towns and cities, where she looked at some of the UK's most shocking murders.
The Crime+Investigation documentary also heard from victims, experts and witnesses, as it examined the impact the killings had on the local communities around them.
Speaking about why she wanted to try her hand at something new, the Nikki Alexander star said: "When I was approached about Murdertown, I watched the first three series of the show.
"I thought they were stories that were really expertly told, with a focus on the victims, who they were and what happened to them."
"The stories being told with sensitivity and respect to the people who have been affected by the crimes and who have lost loved ones," she added.
"I also thought there was an angle to it, you know, in bringing this variety of voices to the show.
"The programme speaks to families if that is possible, or the people who knew the victims."
Silent Witness returns tonight at 9pm on BBC One.
Source: Read Full Article