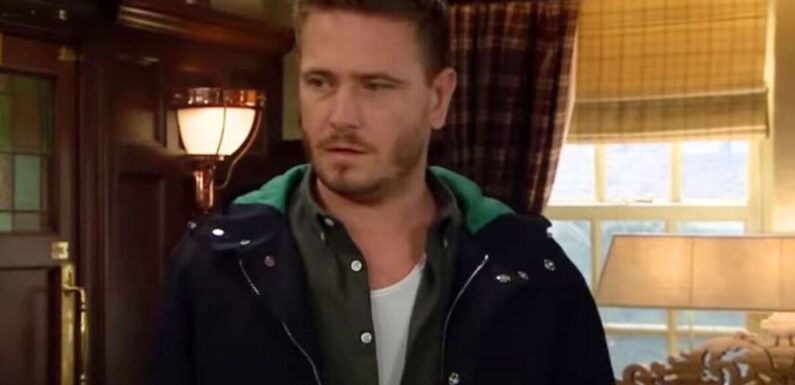 Matthew Wolfenden cries on This Morning over his Emmerdale exit montage
Emmerdale's David Metcalfe (played by Matthew Wolfenden) won't be killed off the ITV soap, the actor has confirmed.
Appearing on Thursday's This Morning, the actor revealed David's fate as he discussed his exit storyline.
"David Metcalfe joins us now!" host Holly Willoughby announced after a montage showed David's character through the years.
"Uh oh, he's gone!" co-host Craig Doyle observed as the actor appeared emotional.
"I'll tell you why, it's been a long time, hasn't it?" Holly explained.
READ MORE Emmerdale fans 'work out' identity of Tom King's attacker as they fear for Belle
She continued: "That's why. 2006! And he's a man of many women, a man of many hairstyles… How's it going to feel?"
"Oh god, I'm so nervous about leaving. But… nearly 20 years, well, almost two decades," he announced.
"Yeah, so it feels like the right time?" Holly stated.
"It feels like the right time, yeah, the door's left open, they're not killing me off," he confessed.
Don't miss…
Emmerdale's Victoria Sugden rocked by bombshell as David makes admission[VIDEO]
Emmerdale victims unite to help Lydia Dingle through traumatic rape ordeal[LATEST]
Emmerdale backlash as viewers furious over Lydia Dingle 'burning the evidence'[REACTION]
We use your sign-up to provide content in ways you've consented to and to improve our understanding of you. This may include adverts from us and 3rd parties based on our understanding. You can unsubscribe at any time. More info
He added: "I've been promised."
"Oh, you're allowed to tell us that are you?" Craig probed.
"I'm allowed to tell you that," Matthew confirmed.
Matthew made his Emmerdale debut back in 2006 and has featured in some dramatic storylines.
Across his 17 years, fans have seen his character battling testicular cancer, almost getting killed by the village murderer and plenty of romantic dramas along the way.
His exit means Matthew could one day reprise his Emmerdale role as many soap stars do when the door is left open for them.
Fans of the character will no doubt be pleased David won't be facing a permanent end.
The character of David even led Matthew to meet his wife, Charley Webb, who played Debbie Dingle in the soap.
Reflecting on this, he told Holly and Craig: "You know what, I met my wife on the show and we've had three kids.
"Not only has it given me 18 years of an amazing job, it's given me a family."
This Morning airs weekdays from 10am on ITV.
Source: Read Full Article