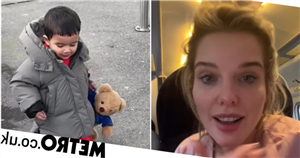 Coronation Street's Helen Flanagan experienced a terrifying ordeal recently, as her son, Charlie, was rushed to hospital after an accident at Alton Towers.
The actress, best known for her role as Rosie Webster in the ITV soap, revealed more details about the incident on her Instagram stories.
While at the CBeebies Land Hotel in the Alton Towers Resort, the family went to a water park, where Charlie slipped 'really, really badly'.
'It was awful, absolutely horrendous', she said.
'I had to get an ambulance and he had snapped his collarbone into two. It was horrendous, so I spent like six hours in the hospital at Stoke.'
Helen, also mum to Delilah and Matilda, then went on to thank the NHS professionals who were able to help her son.
'I'd like to say thank you to the paramedics and nurses and doctors who were amazing', she added.
'Thank you so much. I was literally there, at the Stoke hospital. That was awful, just horrible, horrible, horrible. To see your child in pain was just horrendous, but he's ok.
'There is not much you can do for it, apparently like it mends by itself, but it's horrible, when you're a mum and you wish you could take pain away from them.'
Helen left Coronation Street back in 2018 to go on maternity leave, is often asked about when we could be seeing Rosie again.
The soap star admitted that she is up for heading back to the cobbles, but added that a return isn't on the way just yet as she'd rather wait until her youngest child, Charlie, is a 'bit older'.
'I'd love to go back to Coronation Street at some point', she told OK! Magazine last year.
'I think it's obvious that everything I do work-wise just works around the kids. So yeah, probably when Charlie gets a little bit older, maybe.'
Source: Read Full Article