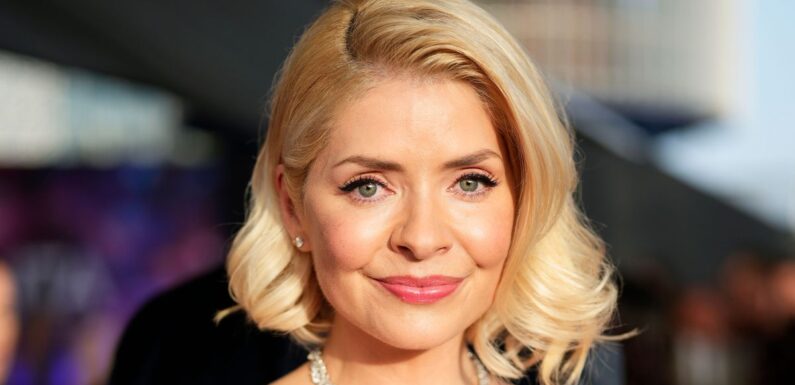 She's been known to enjoy a few drinks at the National Television Awards in the past, but at this year's event, Holly Willoughby was near enough sober – and it was all due to her dress choice.
The This Morning presenter, 42, has revealed why she's not feeling worse for wear after the NTAs, which took place last night, 5 September at London's O2 Arena, and it's thanks to the design of her Suzanne Neville lilac ballgown.
She explained: "I loved my dress last night, I loved getting dressed up all glammed but the problem with that dress was it was a bit wiggly so it was really tight around the old thighs."
Holly explained how the tight fit of the dress prevented her from using the toilet often, which therefore meant she needed to limit how much she drank at the awards bash.
"So I had to go for a pee in the hotel, I'm over sharing too much right now but I'm just going to tell you the truth, and I couldn't pull it up to go for a pee and I was also so tied in tightly so nothing fell out the top, that I also couldn't pull it down," the mum-of-three revealed on This Morning today as she presented alongside Craig Doyle.
She added: "So I had to go in the hotel and then that was it. That was it until I knew I was getting home from The O2."
The TV favourite only risked having a small drink at the event, saying: "So I was like nil by mouth. I had like half a glass of Prosecco I think and that was it."
On the red caret prior to the show, Holly addressed the "difficult year" she's had so far on This Morning, following former co-host Phillip Schofield's affair scandal and toxic claims about the ITV show.
Speaking to OK! on the red carpet, she said: "I know there's been lots of reports about things and for me personally, you know, I don't want to speak on behalf of other people, but it's a world I honestly I don't recognise."
The TV presenter also addressed how "difficult" her year has been at times, but that people want things to "move on".
She told OK!: "This last year has been quite difficult at times. You know, if I'm really honest, it's been up and down. I think it's been a really difficult year for everybody but what's lovely is you find that people rally around you and, you know, the goodwill is there."
Holly added: "People want things to move on".
Follow OK! on Threads here: https://www.threads.net/@ok_mag
Source: Read Full Article