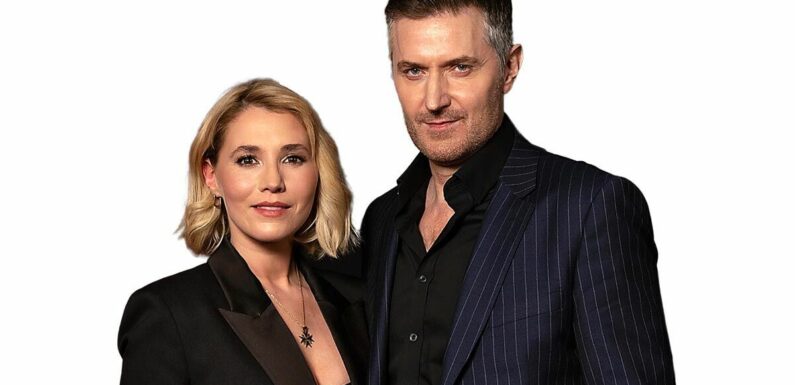 Richard Armitage says producers of his latest show Obsession approached him slowly, "like a scared horse". He laughs: "They would say things like, 'It's quite risqué' and 'We're not sure you will want to engage with it'." It's not surprising they were so cautious. Obsession is more than a little raunchy, with Richard engaging in a steamy sex scene in the first two minutes and embarking on several more during the rest of the four-part series.
The erotic thriller is a new adaptation of the novel Damage by Josephine Hart, which was made into a hit 1992 film with Jeremy Irons and Juliette Binoche.
Richard stars as William, a surgeon at the zenith of his powers – he's been in the public eye after separating conjoined twins – who embarks on a steamy affair with his son's girlfriend. Their sexual attraction is immediate and the show is possibly the steamiest thing on television all year.
Armitage, 51, has previously shied away from his heartthrob reputation – apparently embarrassed by it – which makes his decision to appear naked in this series even more surprising.
"I've put a lot of violence on screen over the course of my career; I've inflicted violence," says the star of Spooks, The Hobbit and several Harlan Coben thrillers on Netflix.
"And I thought that, with this, it would be a good time to tune into some of the other sharp edges of the human condition a bit more, and engage with a character who is experiencing an overwhelming desire for someone who removes his rationale.
"That was what appealed: the passion between these two characters is extraordinary but it comes at the cost of his entire life."
In terms of the nakedness on screen, he reveals, "I tried to get a bit French about it – they aren't shy about their bodies like us."
The production made great use of an intimacy coordinator called Adelaide Waldrop.
Still a relatively new thing in the television world, the intimacy coordinator has completely changed the way sex is portrayed on screen. Using little pads and cushions to ensure there is no skin-on-skin contact, they rehearse scenes with the actors, just as fight scenes are choreographed.
Charlie Murphy, 34, the Happy Valley actress who stars as Anna Barton, William's lover and his son Jay's girlfriend, said it was a welcome relief to be able to discuss the scenes beforehand.
"On previous jobs you'd be knocking on someone's trailer door and saying, 'Hi, in that scene, do you mind if I touch your bottom?'. And that would be it," she explains. "I've been on jobs where, on my very first day, the first job is a sex scene. I'm saying hello to the crew for the first time as I'm taking my top off. So it was such a joy not to have to deal with that; to be afforded the time to work on things. It made everything better for everyone."
Charlie says both crew and actors discussed every element of the erotic scenes.
"Even though we were naked, it felt like we had armour on, then we could have some fun," she adds.
Richard agrees things are easier now: "The director used to say, 'Just do your thing' and you'd have to work out with your partner what you were going to do." But that, he explains, is like asking two action heroes to embark on a fight scene simply by punching each other without any choreography. "It makes perfect sense to have someone to help you go over these scenes," he adds.
"By having that time to talk about and rehearse those scenes, it allowed us room to really locate the spinal cord of this story.
"I trained as a dancer thousands of years ago and enjoyed that chance to find freedom within the movement. I feel like we were able to actually act rather than being body-conscious and self-conscious about what we were doing in front of a room full of people.
"The intimacy coordinator also talked to the crew to make sure they were comfortable with what was going on."
The sex scenes – which mainly take place on the floor of a flat – were filmed in a studio. Richard jokes he got splinters from the parquet flooring as well as a few bruises after some particularly intense moments in this volatile relationship.
The story has been updated since the 90s film, with Anna given more of a back story to explain why she might behave in the way she does. The writer of the four-part series, playwright Morgan Lloyd-Malcolm, was determined to get under the skin of this character who professes to be in love with her boyfriend, yet also sleeps with his father. It becomes clear that Anna is trying to deal with her own demons from her past – in completely the wrong way.
"I think she has this yearning for normality but also has this need, this sexual drive, for something else," says Charlie. "Her morals might be skewed but I don't think she's a bad person – or at least she doesn't think she is. A lot of her behaviour stems from childhood trauma and all that material was in the script. I reached for that as a foundation to her behaviour."
Richard similarly grappled to understand why his character – successful, with a gorgeous wife (played by Indira Varma) and two great children – would risk it all by becoming obsessed with this younger woman, clearly the wrong choice for him.
"I never try to judge and jury over my characters, but I do question them," he says of William. "He's a pillar of society, a very celebrated surgeon who has this incredible wife and a great family and yet he steps over a line. He does something totally taboo. I used to go home at night and think, 'Why can't he walk away? Why can't he make an intelligent decision? Why does he have no self-discipline?' I never quite get an answer to that.
"He is out of control. I think the key to the relationship is that he was looking for someone to yield to."
Richard sought advice from the surgeon advising on the series.
"I had a lot of questions but I didn't ask him if he could ever imagine behaving like this because he was such an open, lovely man," he says. "He did help me with the idea of how a pillar of society, a good man, can do something so forbidden."
Richard says he always brings his roles home with him. He admits he felt so guilty about what his character was doing to his on-screen wife, that when he went to see the actress in a play soon after filming, he "struggled to look her in the eye".
That's how much damage even a fictional obsession can cause.
The binge-worthy series is likely to be much talked about and, having made the decision to embark on this risqué journey, Richard is thrilled at the way it's turned out.
"It's a brilliant exploration of something forbidden," he says. "If two 19-year-olds were behaving like this, it would be a celebration of intimacy. But instead, this is a story of becoming obsessed with the wrong person and the impact that can have on someone."
● Obsession is streaming on Netflix.
Source: Read Full Article