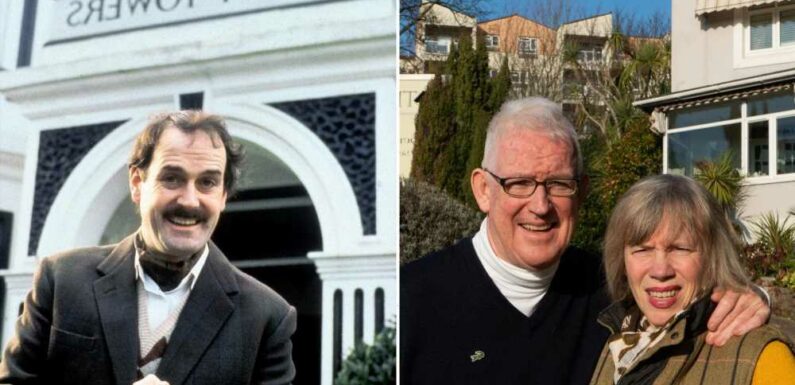 A BED and breakfast owner known as the 'real life Basil Fawlty' is hoping for a boost to his business following the iconic show's revival.
Peter Bland, 55 , who runs a bed and breakfast in Torquay has long been compared to the show's iconic and quirky John Cleese character.
And he is anticipating that the show's comeback will see an influx of guests and an increase in tourism to the seaside town.
Peter runs The Somerville in Torquay, with his wife Helen, 55, and says that his "anti-woke" views and mannerisms have led to him being described as a "dead ringer for Basil."
He said: "I think I do see myself as a Basil Fawlty character, not to the extent where Basil was rude to guests.
"But I like to think of myself as a bit of a character, anti-woke and all that sort of stuff.
READ MORE ON
New Fawlty Towers is doomed to failure – Cleese hasn't been funny since the 80s
John Cleese angers Torbay's hoteliers withBasil Fawlty 'distancing' campaign
"And I absolutely think the reboot will bring a few more people down to Torquay.
"There's been a demise of bed and breakfasts to Airbnbs, which to me are soulless holiday lets, and Torquay is swamped with holiday lets.
Most read in The Sun
Dive expert reveals why he fears missing mum may 'never' be found
Mystery 'abandoned' house searched by cops who warned amateur detectives
Missing mum seen celebrating birthday in heartbreaking photo before vanishing
Love Island shock as popular girl is booted – and she's already left the villa
"But there is nothing nicer than being welcomed by the patron and his wife – although I'm not sure if I'm allowed to say that anymore."
Peter and his wife Helen met at culinary school, and spent decades managing a pub before taking the helm at The Somerville, seven years ago.
Since then, he says his real life does imitate some of the hilarious sketches from the classic comedy.
He said: "I have a room that sort of looks out onto a wall, so what I actually did is have this great big mural printed of Torquay and had it glued on the wall opposite.
"There's that episode where an old and deaf lady walks into one of Fawlty's rooms and says, "I booked a room with a view."
"Basil says, 'This does have a view of Torquay! What would you like to see from the room? Would you like to see wildebeest running over the plains?"
"So when guests check in for that room, I always joke, 'Of course, you do have a sea view.'
He added: "The Brits get it, but some of my overseas guests from over Europe perhaps don't. Maybe that's just British humour."
Peter also likens some of his guests to those in the iconic BBC series, recalling one lady who demanded silver service.
He said: "She was this lady from Surrey, and insisted on everybody knowing she was from Surrey to the extent that she asked another guest to move their car because it was 'her spot'.
"But as the owner, I absolutely love that. Every afternoon she had tea up on the terrace, and I had to make it.
"Nobody else was allowed to make it, and it had to be with this special tea that I was serving her.
"But it wasn't special tea at all. It was the tea that I served to all my guests. She was like a female 'colonel', but I thrive on that."
The Somerville is a five star establishment, with eight art-deco inspired rooms.
And Peter says that even though essentially it is a hotel, he is proud of his bed and breakfast status.
He said: "My rooms are outstanding. My public area is outstanding.
"But there's nowhere on any of my information that says this is a hotel – this is a bed and breakfast that looks after people.
"People come back from their day out, and I say 'How was your day? Do you fancy a glass of wine?
"I hate a breakfast room that is silent. So I like to get people speaking to each other and having a chat – and we speak about the world.
"Whether that's like Basil Fawlty, I don't know. Maybe it's just being a very good host."
CASH HELP
Major change to benefits from today and thousands can get up to £10,000
CABBIE CASH
I'm a taxi driver who handed back £570 I found in car – but reward blew my mind
Source: Read Full Article