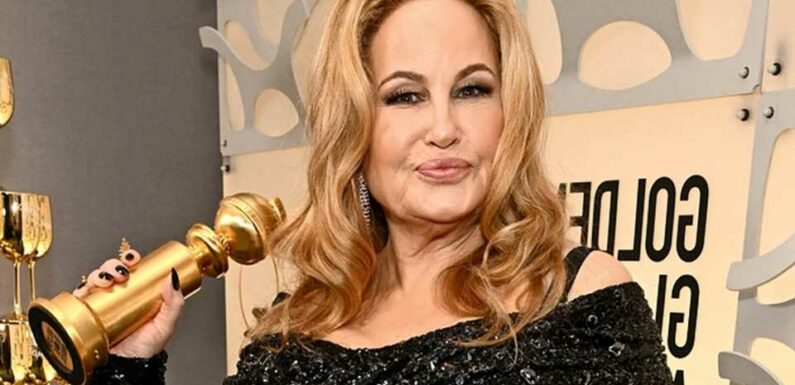 THANKS to iconic bit parts in American Pie and Legally Blonde, actress Jennifer Coolidge is one of the most recognisable faces in Hollywood.
But only now – at the age of 61 – is the queen of cameos truly getting the recognition she deserves.
Last night she shone at the Golden Globes, winning her first gong as best supporting actress for her role as Tanya McQuoid in White Lotus.
And after her hilarious acceptance speech, her name is firmly on everyone's lips.
While some Hollywood actresses complain roles dry up as they get older, Jennifer has bucked that trend.
And it seems the only way is up, with parts in Netflix's The Watcher and the upcoming Legally Blonde 3.
FILM AND TV FEATURES
Where American Pie cast are now including 'MILF' star who bedded 200 fans
Curse of Teen Mom – from shocking dog murder to star fired over sex tapes
But it hasn't been an easy journey for the actress once known as 'Stifler's mom in American Pie' and for cameo roles in Sex and The City and Friends.
From drug addiction to anxiety attacks to crediting Ariana Grande for resurrecting her career, we take a look at Jennifer's rollercoaster life.
'Going nowhere fast'
The Boston Massachusetts-born star's career dates back to 1993, with a role as one of Jerry's flings in Seinfeld – but Jennifer wasn't always destined for the spotlight.
She confessed to having serious doubts over whether she'd ever make it in showbusiness due to the wild party lifestyle she acquired in her early twenties while living in New York in the Eighties.
Most read in Celebrity
Big Brother star hits back after she's cruelly trolled over huge boobs
Carol Vorderman, 62, admits she has FIVE boyfriends 'on rotation'
Gordon Ramsay 'accidentally lets slip wife Tana is pregnant with 6th child'
Katie Price's ex Carl sparks rumours they're back together… can you spot why?
During that time she was a waitress for five years as she tried to make it in comedy and acting.
Speaking to InStyle last year she revealed she developed a cocaine habit, admitting: "I was going nowhere fast.
"I was born low-energy so there was this drug that was invented for people like me.
"It made me very alive, you know? Unfortunately it's a terrible drug."
After a number of A&E dashes, she checked into a rehab facility in Minnesota and was sober by 27.
'Bedded 200 men'
Despite hating auditions, which gave her "full on anxiety attacks", Jennifer moved to LA to pursue her dream.
Her breakout role was as 'MILF' Jeanine Stifler – AKA Stifler's mom – in American Pie in 1999, followed by Paulette the manicurist in Legally Blonde in 2001, and Hilary Duff's mum in A Cinderella Story (2004).
But her promising career took a knock when she lost out to Felicity Huffman for the role of Lynette Scavo in Desperate Housewives in 2004.
Jennifer sensationally admitted she benefited from her lucrative American Pie role in more ways than one, telling Variety: "I got a lot of play at being a MILF, and I got a lot of sexual action from American Pie.
"There were so many benefits to doing that movie. I mean, there would be like 200 people that I would have never had slept with."
While she later admitted that figure was an exaggeration, she added: "It did sort of open up the world to a much broader group of handsome men – and younger men."
Speaking to Ariana Grande for an Entertainment Weekly interview, Jennifer recalled an encounter with one "particularly young guy".
"I won't get into the details," she said. "But afterwards, the next morning, I told him I needed to get a blow dry. So he was so young, we called his mother to see where I could get a blow dry.
"It was so weird that happened on the phone, it was very clear that we were in the bed together."
Marriage rumours
Despite her candid sex confessions, Jennifer – who has never had children – is surprisingly private about relationships.
She was linked to Saturday Night Live's Chris Kattan after he wrote in his 2019 autobiography: "Jennifer Coolidge was a tall, messy, sexy, tough, charmingly crass Boston native bombshell."
There were rumours she married long-term boyfriend Tom Mahoney, although this was never confirmed.
In a 2021 interview with Vulture the actress revealed she was single, and that men are intimidated by her success.
She added: "I don't want this to be the end of my life and my romance and all that. But I don't know how people do it anymore.
"Sometimes I feel like you got this good little thing going once in a while with somebody. You get too much permission to, you know, be you.
"The thing dissolves pretty quick."
Unlikely duo
In 2018, Ariana Grande cast Jennifer in the music video for her track Thank U, Next.
Jennifer credits the singer with having a hand in her career "resurrection".
"I'm embarrassed because I just didn't have high hopes of things like this, you know what I mean? My life had been sort of flatlining for quite a while, so this is above and beyond, and it's a thrill," she told Ariana during an interview.
"I think it really started with you asking me to be in the 'Thank U, next' video.
"I mean, from there I got Promising Young Woman, and this whole thing. You were sort of the instigator. I really believe that."
While she described Legally Blonde as "a gift from god", Jennifer says it's her recent work she's most proud of because she "got to play more complicated people".
"I have done one thing really right in my life. I've picked great friends," she said.
Read More on The Sun
Little-known middle aisle tricks by Aldi & Lidl to get you to spend more
Sky is giving out set-top box upgrades for free – are you eligible?
"If [White Lotus director] Mike was never successful, and we just did White Lotus as a play in a little theatre where everyone paid 10 bucks to see it, it would still be one of the greatest things that ever happened to me.
"Because it was a killer job that no one else thought I could do."

Source: Read Full Article