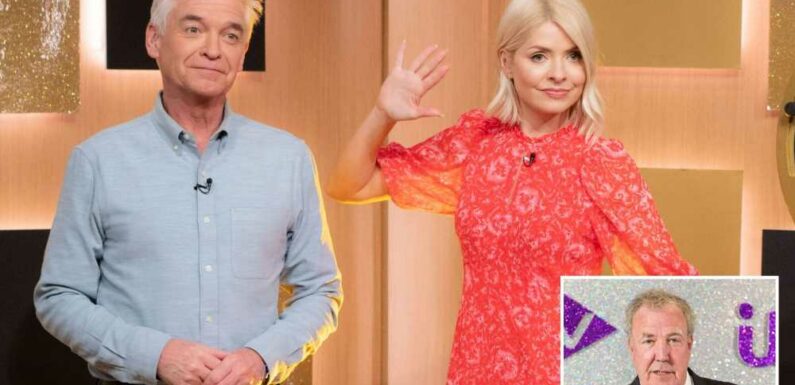 JEREMY Clarkson has fiercely defended Phillip Schofield amid uproar over his affair with a junior colleague.
Clarkson, 63, waded in to say Schofield has been unfairly slammed as a "queue-jumping nonce".
The veteran broadcaster accused critics of homophobia, saying straight stars are not given the same treatment.
He told the Sunday Times: "According to the people's court of social media, he's like his brother, a nonce.
"Actually, he's worse than that: he's a queue-jumping nonce. And we don't ever want to see his disgusting face again."
Clarkson pointed out celebrities including Leonardo DiCaprio, 48, Al Pacino, 83, and Robert De Niro, 79, aren't criticised for dating much younger women.
Read More On Phillip Schofield
I interviewed Phillip… and unless he's a great actor, he's utterly broken
Emotional way Holly Willoughby will address Phil Schofield scandal revealed
Pacino is currently expecting a baby with a 29-year-old.
There was a 30-plus year age gap between Schofield and a runner he worked with at This Morning.
Schofield was axed from the ITV show after admitting he had an affair with a younger male aide.
Clarkson blasted the "witch hunt" and said "no crime has been committed".
Most read in Showbiz
Moment Phillip Schofield comforts his mum after This Morning sacking news
Emotional way Holly Willoughby will address Phil Schofield scandal revealed
Sian Osborne hits out at Una Healy after she slammed David Haye throuple
This Morning boss says 'scores being settled' over 'toxic' Schofield scandal
He added: "It seems to me he is only guilty of being what he aid he was: gay."
Schofield, who married his wife Stephanie in 1993, came out as gay on This Morning in 2020.
He told The Sun his wife was "very, very angry" when he confessed to her he had had an affair with a younger colleague.
He added that he previously denied rumours about the affair when asked by other colleagues.
Schofield was previously slammed for queue-jumping to view the late Queen's coffin.
It comes as Schofield, 61, was pictured comforting his mum Pat, 87, after revealing he'd been axed from This Morning.
And a TV source said his former co-host Holly Willoughby will address the scandal "honestly and openly" on Monday as she returns to presenting duties on This Morning.
They said she has personally prepared a statement because she wants to tell viewers how difficult it has been for everyone behind the scenes on the show.

Source: Read Full Article