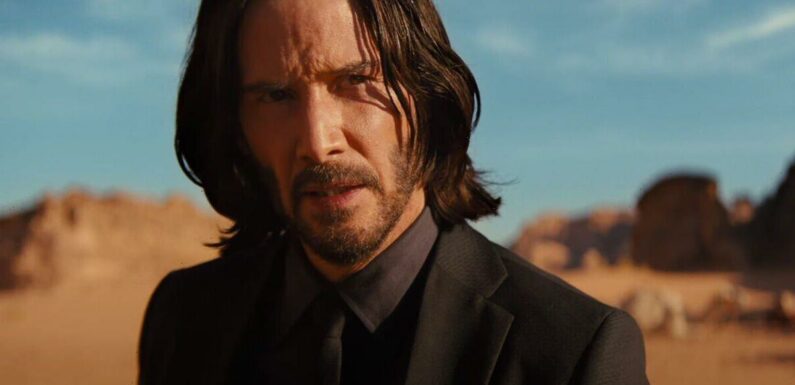 Lainey Wilson: Star addresses 'the end of' her Yellowstone character
We use your sign-up to provide content in ways you've consented to and to improve our understanding of you. This may include adverts from us and 3rd parties based on our understanding. You can unsubscribe at any time. More info
Taylor Sheridan's hugely successful Yellowstone franchise has attracted some major talents over the years, with Harrison Ford and Helen Mirren recently taking the reins from Kevin Costner for the new Paramount+ prequel, 1923. With reports the current season of the flagship series could be its last, The Matrix star Keanu Reeves recently expressed interest in making a surprise appearance.
Reeves confirmed he could be making a visit to the Dutton Ranch at some point in the future.
The Hollywood star was recently asked if he would be up for taking on a "surprise role" within the franchise by ET Canada.
"I'd love to do a western so yeah, yeah sure," he replied elusively.
Fans shouldn't be confident Reeves will be turning up before the end of the season, but there's certainly a chance he could appear in the show's planned sequels and spin-offs.
Get Paramount+ For Free
£6.99 £0 View Deal
When you subscribe to Sky Cinema, you'll unlock hundreds of hours of television shows and movies to binge! It's all thanks to a free subscription to Paramount+ (usually £6.99 per month) to watch on your Sky Glass, Sky Q, or on any device with a Paramount+ app
His tease at a Yellowstone role arrives shortly after reports the current iteration of Yellowstone would be coming to an end after Costner steps down from the role of John Dutton.
Paramount has assured fans the franchise will continue, though it's unclear if the rest of John's family will be the focus of the drama.
There are also currently rumours Oscar-winner Matthew McConaughey is poised to take over the franchise, though this has yet to be confirmed.
When reports surfaced in February, a Paramount spokesperson said: "We have no news to report. Kevin Costner is a big part of Yellowstone and we hope that's the case for a long time to come.
"Thanks to the brilliant mind of Taylor Sheridan, we are always working on franchise expansions of this incredible world he has built.
"Matthew McConaughey is a phenomenal talent with whom we'd love to partner."
Costner was also rumoured to have significantly cut down his filming commitments for the series, though his attorney Marty Singer denied these claims.
"The idea that Kevin was only willing to work one week on the second half of season five of Yellowstone is an absolute lie," he said to Fox News Digital.
Don't miss…
Bridgerton fans convinced iconic character cast in season 3 [INSIGHT]
Sex/Life stars confirm season 3 'up to the viewers' [INTERVIEW]
Outlander fans fume at Claire and Geillis timeline 'error' [BLUNDER]
"It's ridiculous – and anyone suggesting it shouldn't be believed for one second.
"As everyone who knows anything about Kevin is well aware, he is incredibly passionate about the show and has always gone way above and beyond to ensure its success."
For now, Yellowstone is showing no signs of slowing down, as the remainder of the fifth season will also be followed by at least three more spin-offs, Bass Reeves, 1944 and 6666.
Meanwhile, Reeves is still fully immersed in the world of John Wick, returning for the fourth chapter of the action thriller series this month.
"We keep finding new and interesting ways to have John Wick suffer," he told the Hollywood Reporter.
"That's where the action comes from. Figure out how to make him suffer, and then design backward."
John Wick is also expanding into spin-off territory which will most likely not feature Reeves, freeing him up to take on new and exciting projects either with the Yellowstone team or elsewhere.
Yellowstone seasons 1-5 are available to stream on Paramount+.
Source: Read Full Article