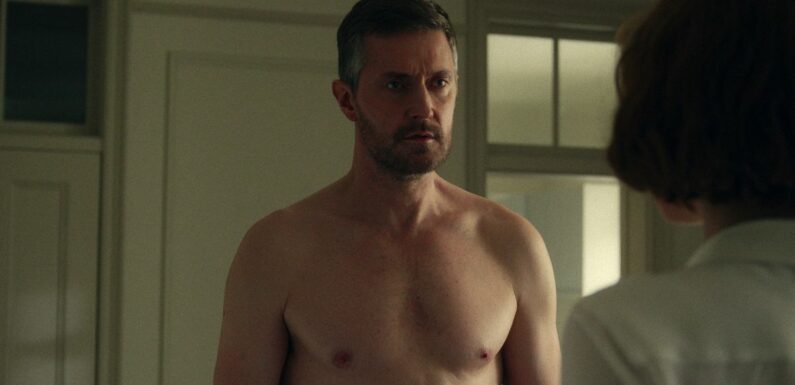 Netflix viewers were left gobsmacked after watching the streaming platform's new thriller Obsession.
The new sex-filled series follows the character William, played by Richard Armitage, as he has a dangerous affair with his son's girlfriend, Anna, played by Charlie Murphy.
As William's obsession with Anna grows, he follows her on her trip away to Paris, where she jetted off with his son, Jay.
READ MORE: Heidi Klum wears nothing but tiny towel as fans say she's 'ageing like fine wine'
Though some viewers thought the show took it a step too far when William broke into their hotel room and "humped" a pillow.
One viewer branded the raunchy scene as "unhinged", while another stated it was "the first time anyone on a Netflix show has ever humped a cushion".
The BDSM-themed drama has been a hot topic online, with many fans taking to Twitter to share their thoughts.
One viewer wrote: "Me watching Richard Armitage naked like #ObsessionNetflix"
A second added: "Just watched #ObsessionNetflix And I am very uncomfortable. But God damn, Richard Armitage is the literal definition of Daddy. Also, you get to see his ass and c*** (idk if it's prosthetic) in the first episode itself."
While a third penned: "Daddy Richard Armitage is my main reason to watch this. I hope it doesn't disappoint. #obsessionnetflix"
Though actor Richard revealed he actually improvised the X-rated scene.
He told Metro: "It was really unexpected because it was written as quite a different scene."
"Charlie had – without me knowing – sprayed her scent that she'd been wearing throughout the shoot into different parts of the bed and I just got the sense of it and that's where the scene just opened. But the recording of it wasn't too planned."
Anna actress Charlie, who has also starred in Peaky Blinders and Happy Valley, says although the sex scenes were "intense but fun to film".
At a press screener for the show, Charlie said: "Even though we were naked we felt we had armour and we could have fun. I think it all kind of fell into place in the rehearsal.
"In previous jobs, you'd be knocking at someone's door at 6am going 'Hi, sorry I know you're probably getting ready and eating breakfast, but do you mind if I touch your bum in that moment. OK, I'll see you on set', that happens."
READ NEXT:
Amy Schumer says fans 'gasped' when they saw how 'huge' John Cena was in sex scene
Baywatch star Brande Roderick lays herself bare as she unbuttons top to parade curves
Chloe Cherry's naked Euphoria scene cut after star told director 'that's a lot'
Source: Read Full Article