Hannah Brown's runner-up contestant on The Bachelorette, Tyler Cameron, is still a fan-favorite. However, his latest Instagram posts with his best friend, Matt James — and our new season 25 Bachelor — took things even further. Now, fans have come up with several ideas for a spinoff involving the two men.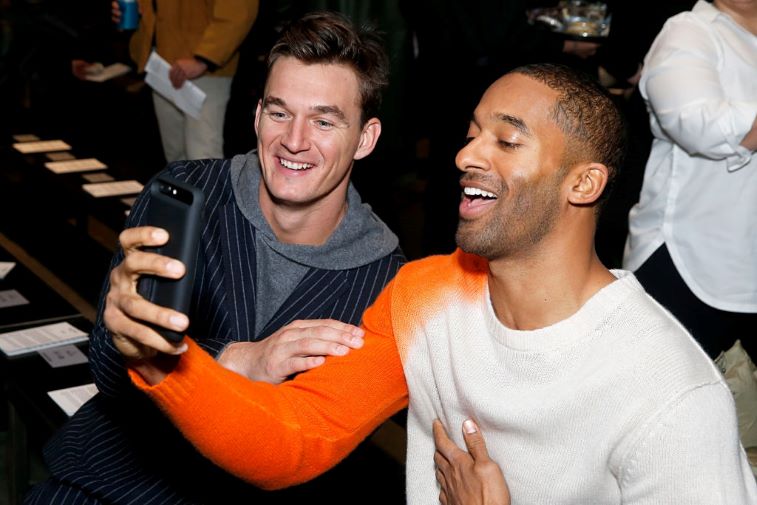 Why do fans love Tyler Cameron and Matt James so much?
When ABC shared The Bachelorette Season 16 contestants, fans took a particular interest in Matt James because he is a friend of Cameron. Fans began following James on social media even after Clare Crawley's season was postponed due to the coronavirus (COVID-19).
When Cameron and James quarantined with Brown, among others, to form the "Quarantine Crew," the real social media hold took over. The TikTok videos and Instagram posts that followed had fans begging for more content.
https://www.instagram.com/p/B_JQzNVDNpY/
RELATED: 'The Bachelor' Fans Are Obsessed with Matt James; He Hasn't Even Been On the Show Yet
"Myler for life!" one Reddit user wrote. "Damn, if my future husband is half as good as Tyler and Matt's friendship, we will have a good relationship."
What 'Bachelor'-related Tyler Cameron and Matt James spinoff are fans begging for?
Fans find the pair entertaining and fun. In recent days, Cameron and James protested for racial inequality together at a Black Lives Matter movement. The captions both men shared have fans begging for more.
"Instead of The Bachelor, can we just have a 'Matt and Tyler' season?" one fan proposed.
Other Redditors took the suggestion a bit further, adding that the duo could be on a "double bachelor" spinoff. It would be similar to Double Shot at Love with Pauly D and Vinny on MTV, but better.
RELATED: 'The Quarantine Crew': A Run-Down of Everyone That Hannah Brown and Tyler Cameron are With During the Coronavirus Pandemic
"Yes!" another fan agreed. "I would happily watch a show following Tyler and Matt. But let's make it more about their ABC Food Tours events for underprivileged children than the Bachelor."
James is the founder of ABC Food Tours, which takes children in New York City to tour local restaurants and learn about entrepreneurship. Over 50% of the students the company serves are homeless, while over 69% live in poverty.
'The Bachelorette' Season 16: What happened between Matt James and Clare Crawley?
There was a bit of controversy surrounding James and Crawley since the postponement of her season. Crawley tweeted that anyone who is already doing "Cameos" is not in it for the right reasons. Many fans speculate that she was talking about James, who is on Cameo already.
However, since James is the founder of ABC Food Tours and a popular football player, he was trying to raise money for charity. Things seem to have smoothed over between the two, for now.
RELATED: Is Matt James Still on Clare Crawley's Season of 'The Bachelorette'? He Hopes so–'I'm Looking Forward to It'
"There's a very beautiful young lady in Sacramento right now who's quarantining and who is patiently waiting for production on a show to pick back up, and I've been waiting as well," he told E! News, on April 23, 2020. "I'm hoping after everything settles down, and everyone is safe that I'll finally get to meet her. I'm looking forward to it."
However, since James said that, he was cast as the next Bachelor, so it doesn't look like the two will test out their chemistry together, after all.
Source: Read Full Article