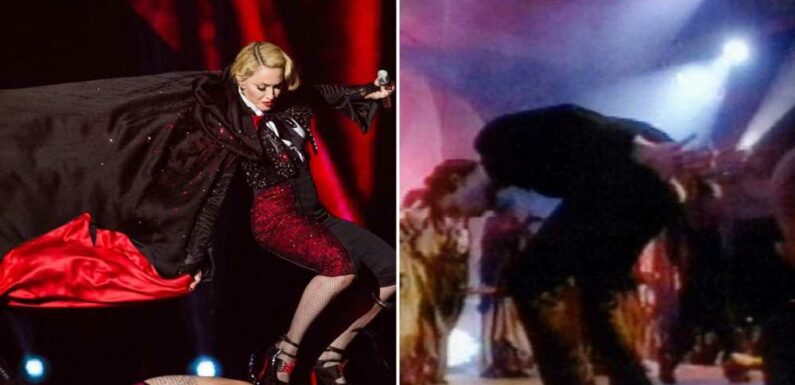 THIS year's BRIT awards ceremony is fast approaching.
Over the years, the famous event has been host to an array of shocking celeb moments.
Who could forget Madonna's awkward cape fail, or Jarvis Cocker's stage invasion?
We can only wonder what will be in store this year…
Let's have a look at some of the most standout moments of the music awards ceremony over the years…
Lewis Capaldi's sweary speech (2021)
The singer, 26, appeared at the O2 to present the award for British Album of the Year.
Read more on the Brit Awards
Sam Fender dating Raye after pair got cosy backstage at Brits
Huge superstar to perform at Brit Awards with Harry Styles & Stormzy
However his speech had to be muted due to the amount of swear words he used.
Lewis said to the audience, as well as those at home: "Hello motherf***ers! Listen guys… I'm f***ing sweating – it's like a swamp down there, I'm telling you. Sweaty b****cks."
He added: "It's been a great year for albums….
"Most of all because I haven't f***ing released one!"
Most read in Showbiz
Police Academy star George R. Robertson dies aged 89
Melinda Dillon famed for role in A Christmas Story dies aged 83
I ran celeb restaurant – George Michael was brilliant but I banned Keith Lemon
'Distraught' Thom Evans tells pals he's broken up with Nicole Scherzinger
The award was given to Dua Lipa for her album 'Future Nostalgia'.
Jack Whitehall and Little Mix (2019, 2021)
Jack has had a couple of awkward moments with Little Mix at the awards ceremony.
In 2019 he brought up a comment about the girls made by Piers Morgan after they posed nude.
Jack asked Leigh-Anne Pinnock, Perrie Edwards, Jesy Nelson and Jade Thirwall: "What would you say to that dutty wasteman?"
The girls were left lost for words, with him adding: "What? I want some beef at some Brits."
Then in 2021 he chatted to the band again, but this time as a trio after Jesy Nelson left in 2020.
Leigh-Anne and Perrie proudly showed off their growing baby bumps, to which Jack said: "The next question on my card is, "What do you do to pass the time in lockdown?"
"He went there, he actually went there," Leigh-Anne joked back.
Madonna's cape fail (2015)
Madonna took a tumble down a flight of stairs at the 2015 awards, she later blamed the fall on the design of the cape she had been wearing.
But the cape's designer, Giorgio Armani claimed that the cape was originally designed with a hook – but Madonna has requested a tie.
He told AP:  "Madonna, as we all know, is very difficult. That's all there was to it."
Adele swearing (2012)
Adele flipped the bird when she realised that she was being hurried along by BRIT bosses who needed to get Blur on stage.
Adele said: "Oh alright, I'm sorry and I'll see you this time next year!" before flashing her middle finger at the cameras before storming off.
The singer went on to blame her outburst on "the suits, not the fans".
Liam Gallagher vs. Peter Kay (2010)
At the 2010 ceremony, the Oasis frontman made a surprise appearance to accept his award for Best Brits album of the past 30 years – but then went on to give a rambling and foul-mouthed acceptance speech.
Liam then threw his microphone into the crowd, causing a 10 minute delay.
Host comedian Peter Kay eventually got back on stage where he referred to the Oasis member's actions by saying: "What a knobhead."
That Arctic Monkeys' speech (2008)
The band gave off a rather strange vibe when they accepted their second award of the evening, deciding to chat about the "cyclical nature of the universe" and how rock and roll might have "faded away sometimes, but it will never die."
Singer Alex Turner also dropped his mic on the floor, before offering to pay for it in case he'd broken it.
Sharon Osborne vs. Vic Reeves (2008)
Sharon didn't shy away when it came to giving Vic a tongue lashing on stage after believing he was too drunk to present an award.
She fumed: "You're p*****. P*** off you b******!"
Vic later claimed it was down to an auto-cue malfunction and that he was upset by Sharon's behaviour.
Russell Brand's awkward jokes (2007)
Controversial com comedian Russell brand was somewhat of a loose cannon when it came to hosting in 2007 – he made an array of uncomfortable jokes about a British soldier being killed in friendly fire, the Queen's "naughty bits" and Robbie Williams' drug rehab.
ITV1 ended up receiving over 300 complaints as a result.
Brian McFadden vs. So Solid Crew (2002)
This may not be on of Brian's best thought out moments, but reportedly the then-Westlife singer threw a bottle of water over all 24 members of So Solid Crew backstage at the 2002 awards.
Apparently, he'd consumed two bottles of vodka and eight cans of Red Bull before he decided it was a good idea.
We've all be there, Bri'…
Robbie Williams vs. Liam Gallagher (2000)
Who could forget the time that Robbie used his acceptance speech to offer Oasis singer Liam Gallagher a fight?
Robbie said: "So, anybody like to see me fight Liam?
"Would you pay to come and see it? Liam, a hundred grand of your money and a hundred grand of my money.
"We'll get in a ring and we'll have a fight and you can all watch it on TV, what d'you think about that?"
Robbie was quickly escorted away from the stage.
Ronnie Wood and Brandon Block (2000)
In one of the most awkward moments in the history of the Brits, dance DJ Brandon Block was so drunk that when his friends joked that he had won an award he staggered onto stage to accept it – interrupting rock legend Ronnie Wood's speech.
Brandon was pulled back but broke free from security and squared up to the Rolling Stone's rocker.
Ronnie then retaliated by throwing a drink in his face.
John Prescott's soaking (1998)
At the 1998 awards, Chumbawamba band member Danbert Nobacon threw a bucket of iced water over then Labour cabinet member John Prescott.
The band later said: "If John Prescott has the nerve to turn up at events like the Brit Awards in a vain attempt to make Labour seem cool and trendy, then he deserves all we can throw at him."
Ginger Spice's Union Jack Dress (1997)
Six months after the girl band burst onto the music scene, Ginger Spice Geri performed on the Brits stage in a tiny Union Jack dress that has now become iconic.
The eye-catching dress left very little to the imagination and later sold for a whopping £41,320 at a charity auction.
Geri Horner's boob flash (1997)
Spice Girl Geri didn't leave much to the imagination when the redhead changed into a red sequin gown to accept an award and manged to suffer an ill-time wardrobe malfunction as she made her way on to the stage.
Jarvis Cocker's stage invasion (1996)
Pulp singer Jarvis Cocker chose to stage invade Michael Jackson's performance of Earth Song, he jumped on stage and pretended to moon the audience as MJ belted out the hit tune.
That KLF moment (1992)
The KLF were one of the most controversial and ground-breaking electronic acts of the late 1980s and early 1990s – then, in 1992, they left music in the most outrageous style.
In 1992, they performed the track live at the BRIT Awards alongside punk group Extreme Noise Terror.
In a "violently antagonistic performance" Bill Drummond, wearing a kilt and smoking a guitar, fired blanks into the crowd with an automatic rifle.
As they left the stage, their promoter announced on the PA system: "The KLF have now left the music business", marking the band's retirement.
They had originally planned to throw buckets of sheep's blood into the audience too, but were stopped by BBC lawyers and vegans Extreme Noise Terror.
Instead, they decided to dump a dead sheep with the message "I died for you – bon appetit" at one of the BRITs' after-show parties.
Sam Fox and Mick Fleetwood (1989)
This rather odd pairing proved to be a rather unfortunate hosting performance.
The auto-cue broke, the pair repeatedly minced their lines and several guests' appearances were mixed up.
Read More on The Sun
Woman's dad converted the garage into a studio flat so she'd have her own space
Thousands missing out on up to £442 in free food vouchers – can you claim?
The whole show was panned and the awards' reputation even took a knock.
Yikes.
Source: Read Full Article