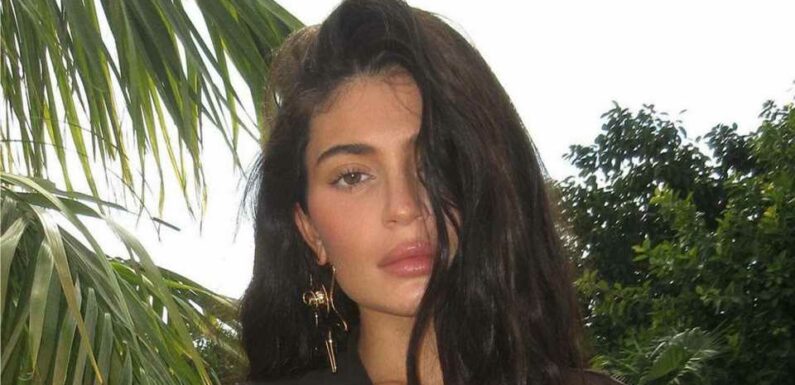 KARDASHIAN fans have been mocking Kylie Jenner's "dirty" fashion accessory as she flaunts her half-naked body on social media.
Kylie, 25, stirred fans after she shared snaps of herself in a mini-skirt with a matching thong, a crop top, and furry heels to Instagram.
Under the long-sleeved sheer brown crop top that the Kylie Cosmetics founder wore, she had on a black bandeau bikini top.
The mom-of-two paired it with a green and yellow thong bikini bottom with a matching paisley half skirt.
She accessorized the look with strappy brown heels, fuzzy yellow feathers attached to the bottom, and a matching shawl.
Kylie shared the snap alongside another photo of her in the outfit from behind in an Instagram carousel post.
In the image where the Hulu personality was captured from behind, she leaned on the railing of the balcony she was on, exposing her thong.
'SUPER TRASHY'
Many critics slammed the Keeping Up With the Kardashians alum's outfit and shaded it for being subpar.
"…I give a lot of f**king leeway for fashion but I draw a line here. What the f**k is this nonsense?," one fan criticized.
Another added: "[The] outfit looks like it was made from leftover fabric scraps," while one dragged, "I'm sorry but this is super trashy."
Most read in TV
Amanda Holden makes seriously embarrassing beauty blunder while in Italy
Titanic film riddle that has baffled fans for 25 years finally solved
Stacey Solomon fans convinced she's given birth after spotting clue
Khloe Kardashian slammed for 'sickening' treatment of True at Stormi's party
While critics took jabs at the entire outfit, many singled out her shoes for being the most unappealing part of her look.
One critic jokingly wrote, "not the Grinch feet stilettos!!!!…"
A fan replied in detail: "All I can think about is how dirty and matted those f**kers would be at the end of the night if someone actually tried to wear those practically."
A few fans even accused Kylie of wearing the outfit to hide the scars from her alleged Brazilian Butt Lift surgery, aka a BBL.
A fan commented: "It's obv to cover up the BBL but I'd also say it's the 2023 version of the 'whale tail' thong above the low-rise jeans of the 2000s."
Another said: "It's kind of amazing how BBL hips never look natural. Don't get me wrong, she looks great, but as someone with naturally wide hips from a long lineage of wide-hipped women, that is not what natural wide hips look like lol."
BOOTY ENHANCEMENT?
In an exclusive conversation with The U.S. Sun, plastic surgeon Dr. Barrett said there's no way Kylie's body has changed so dramatically without surgery.
He said: "Her hip and waist proportions appear to be altered. She has a great shape but it doesn't appear to be god-given. This is typically achieved with a BBL procedure."
He continued: "There's no other way you can go from a straight-shaped body to this curvaceous body without that procedure."
Kylie hasn't admitted to having a BBL procedure, but when comparing her butt from a few years ago to her butt now, there's a huge difference.
Even with her butt getting smaller due to weight loss, her body shape has been completely transformed.
Last year, fans thought Kylie went under the knife again to have her implants removed.
Read More on The Sun
Woman's dad converted the garage into a studio flat so she'd have her own space
Thousands missing out on up to £442 in free food vouchers – can you claim?
A Redditor flatly stated: "We get it. Your a** is deflating like the rest of your family. Yawn."
Another wrote: "Right! Idk if it's the angle or the outfit but she's looking [thinner]. Like her a** looks smaller too is Kylie leaving the bbl era behind?"

Source: Read Full Article