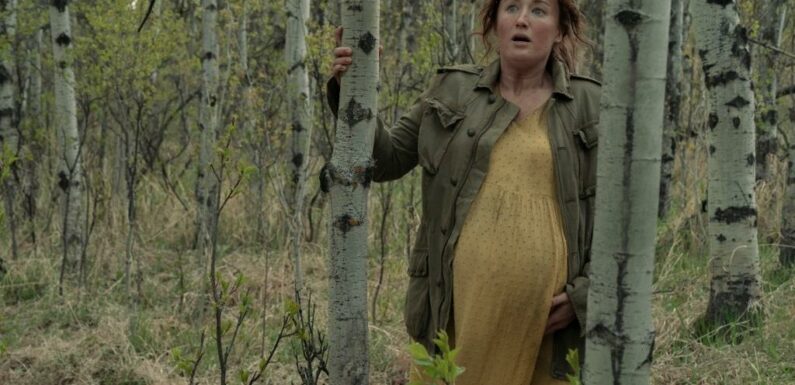 Even amid an unrelenting apocalyptic world, life finds a way. Ahead of The Last of Us Season 1 finale, HBO released a new image featuring a pregnant and seemingly stressed-out woman named Anna. Also known as Ellie's mother, Anna is played by acclaimed voice actor and motion capture performer Ashley Johnson, who originated the role of Ellie Williams in the video game series. In the series, Ellie is portrayed by Bella Ramsey.
Within The Last of Us lore, little is known about Anna outside of her friendship with Marlene, leader of the Fireflies, and her death soon after giving birth to Ellie, leaving behind her favorite switchblade and a personal note, which Ellie carries in her backpack. However, knowing that series showrunner Craig Mazin and creator Neil Druckmann share a penchant for expanding and differentiating from the source material, we can expect to gather more information about who Anna is and possibly unlock the secrets behind Ellie's immunity. In an interview with Rotten Tomatoes, Druckmann explained the importance of bringing Anna's story to screen. "There are other stories that were written since the game had come out for different projects that, for one reason or another, didn't happen that when Craig [Mazin] and I started talking about the story and breaking it down, I mentioned some of those to him, and he was wide-eyed like a fan and said, 'Oh my God, we got to put these on the screen, we've got to get them on the show…Ashley Johnson plays Ellie's mom, and that was one of those stories that were near and dear to my heart, and I'm so glad that it gets to live."
Related Story
'You' Takes Over No. 1 Spot On Nielsen U.S. Streaming Charts, 'The Last Of Us' Rises To Third Place
In addition to Johnson, below are other actors from the award-winning video game series that have appeared in the television series so far.
Jeffery Pierce
In the video game, actor Jeffrey Pierce plays Tommy Miller, younger brother to Joel Miller, who runs away to join the Fireflies for a brief time before settling down in a growing community of people out in Wyoming. In the TV series, Tommy is portrayed by actor Gabriel Luna, while in Episodes 4 and 5, Pierce plays Perry, a right-hand man to Kathleen (Melanie Lynskey).
Merle Dandridge
Merle Dandridge earns an honor of distinction amongst her video game colleagues as she's the only one to portray the same role in the television adaptation. Like in the game, Dandridge reprises her role as the radical Fireflies leader, Marlene. After Ellie's mom dies, Marlene keeps a watchful eye over Ellie. She plans to take her to Salt Lake City to a group of medical professionals to study Ellie's immunity to the Cordyceps virus.
Troy Baker
In the penultimate Episode 8, Troy Baker, who originated the role of Joel Miller in the game, makes an appearance as James, a member of a cannibalistic crew run by a sadistic leader named David (Scott Shepherd). In the TV series, Joel is portrayed by Pedro Pascal.
Must Read Stories
Michael B. Jordan Spearheading Film & TV 'Creed-Verse' In Works At Amazon
Austin Fest Preview & Hot List: Pics With McGregor, Sweeney, Gillan, Mackie, More
Anonymous Content CEO Dawn Olmstead & COO Heather McCauley Resign Abruptly
D.A. Refutes Alec Baldwin Lawyer's Claim Gun Was Destroyed; "Can Be Used As Evidence"
Read More About:
Source: Read Full Article