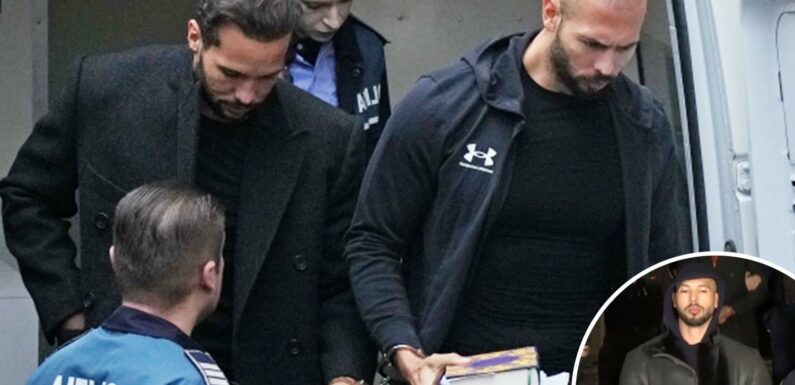 ANDREW Tate and his brother were seen handcuffed outside court this morning ahead of a ruling over their 30-day arrest on sex trafficking charges.
The disgraced influencer, 36, and his brother Tristan have been held in a "hellhole" Romanian jail cell since December 29 as part of a probe into human trafficking, rape, and organised crime.
The duo and two Romanian female suspects were detained in Bucharest by Romanian anti-organised crime prosecutors pending a criminal investigation.
They have denied wrongdoing through an attorney and have challenged the arrest warrant.
A verdict on the appeal is expected to come later today, Andrew and Tristan's lawyer, Eugen Vidineac, said.
Andrew and Tristan are accused of recruiting women on social media platforms and persuading them to travel to their £600k villa on the outskirts of the country's capital Bucharest.
Read more on Andrew Tate
Chilling leaked WhatsApp chats show Andrew Tate & enforcers threatened women
Andrew Tate shares cryptic tweet amid claims 'he's been rushed to hospital'
The brothers would allegedly falsely claim to be in love with the young women, before making them perform sexual acts on webcams.
Women were forced to film porn videos in the compound and were kept under 24/7 house arrest, according to Romanian investigators.
Prosecutors also said one of the brothers raped one of the victims in March of last year, which is when the investigation started.
"The possibility that the suspects would evade investigation, leave Romania and settle in countries that do not allow extradition given their financial possibilities and public comments to that regard cannot be ignored," the court judge said in the written record approving the arrest.
Most read in The Sun
Meg 'sobbed on floor' after tense exchange with Kate over 'baggy' dress
How much of Harry's garbage can we actually believe?
Geordie Shore castmate AXED for second time in huge series shake-up
Love Island signs Michelle Keegan lookalike Olivia Hawkins
Should the court uphold the arrest warrant and the investigation need more time, prosecutors can seek approval for further extensions of up to 180 days of detention under Romanian law.
It's understood the brothers could be released if they win their appeal.
They will also appeal against the seizure of some of their belongings – including 11 flash cars – in the court appearance.
In an interview with the Romanian outlet Gandul, Vidineac, reiterated the brothers' denial of any wrongdoing.
He said there is "no evidence" to support allegations of human trafficking, rape or organised crime against the brothers.
He also revealed the Tates both have children in Romania.
And he claimed social media posts by the brothers should not be used against them because they are portraying "characters".
But he clarified their online presence is not "necessarily fake, in its entirety".
In a translated video posted on Andrew's Twitter account, Mr Vidineac said it took the Tate brothers "some time to understand" why they were in custody.
He said the defence had not been given the opportunity to study the prosecution file for the case.
Tate has been under investigation since April when his mansion was raided after a tip-off that a 21-year-old American woman was being held against her will.
The American woman told police she had met Tristan through a social media network and he convinced her to come to Romania.
After allegedly being forced to work on a video live stream, she managed to contact her ex-boyfriend who raised the alarm with the US embassy.
It comes after one of the brothers was reportedly rushed to hospital while in custody.
According to the Romanian news channel Antena 3 CNN, one of them was taken to see a doctor after a "routine medical check".
They reportedly told a medic about a pre-existing health issue before they were taken to a hospital in the Romanian capital of Bucharest.
But Andrew later shared a link to the article on Twitter with a cryptic message.
He wrote: "The Matrix has attacked me.
"But they misunderstand, you cannot kill an idea. Hard to kill."
Controversial Tate initially gained fame after a short-lived appearance on Big Brother.
He was dumped from the reality show after alleged footage of him beating a woman emerged online.
Since then he has sparked revulsion and outrage with a wave of content online.
Washington DC-born Tate was accused of spreading hate towards women as he built his profile.
The influencer was banned from Twitter in 2017 for violating its terms of service with his controversial comments.
Read More on The Sun
Geordie Shore castmate AXED for second time in huge series shake-up
People realise same thing about 31 December birthdays & it's blowing minds
He has previously referred to women as "property" and said they should bear "some responsibility" if they are sexually assaulted.
In August, Tate was banned from a range of other social media sites.

Source: Read Full Article