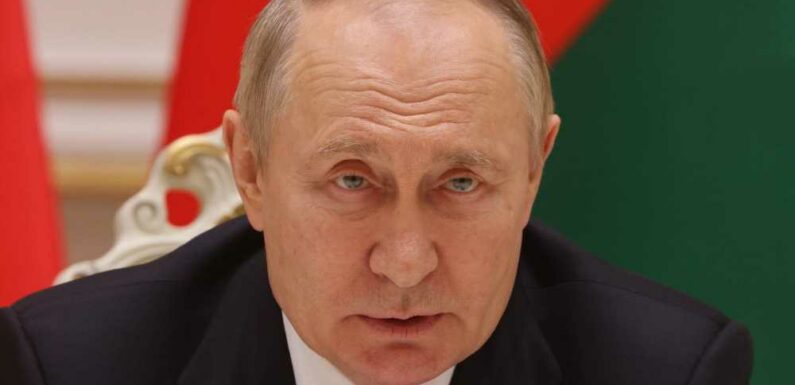 VLADIMIR Putin could lash out with more nuke threats as his cancer worsens, a so-called Kremlin insider has claimed.
The tyrant, 70, is said to be "critically ill" – with rumours fuelled by his bloated face and trembling legs.
Bombshell spy documents leaked to The Sun appeared to confirm he has pancreatic cancer and early-stage Parkinson's disease.
Telegram channel General SVR – which claims to be fed information by a Kremlin insider – has now claimed Putin has become "withdrawn and laconic".
It also alleges the Russian president is suffering from "weakness, dizziness and lack of appetite" as he is "undergoing therapy with the use of drugs".
The channel claims: "According to the close circle of Putin, he has become withdrawn, laconic, practically does not receive anyone, and, in general, looks deeply concerned in recent days."
More on Putin
UK will ramp up Ukraine support despite Kremlin threat to 'burn' Brit tanks
Russia faces civil war that would leave millions dead after Putin, says warlord
It alleges cancer treatment is one of the reasons Putin is relentlessly pursuing the war in Ukraine.
The so-called insider added: "The war exists in the head of one terminally ill man with a disturbed psyche who is trying to take as many people as possible with him to a mythical 'paradise'."
According to the reported insider, treatment is having a detrimental effect on his "psycho-emotional state" – which could prompt him to unleash more terrifying threats.
It comes after a senior spy official from Denmark similarly alleged Putin is suffering from megalomania caused by cancer drugs.
Most read in The Sun
Reality TV legend will replace David Walliams as judge on BGT
Woman died when car plunged into icy lake after she was 'raped by colleague'
Mum and kid killed 'on way to nursery' after TT hits them & driver arrested
Love Island's Gemma Owen is dating Grime star after split with Luca Bish
Last month, Putin renewed his nuke threat against the West by appearing to ready a nuclear missile for launch.
Footage showed a huge Russian Yars rocket able to hit the UK and the US being loaded into a silo at a base near Moscow.
Meanwhile, the General SVR previously claimed Putins' doctor had noted a "significant deterioration" in his health.
It also alleged Putin had increasingly resorted to the use of "body doubles" at public events as his condition worsened.
The channel bases its claims on having sources in Putin's entourage without offering more proof.
Just last week, the tyrant appeared in pain as he repeatedly rubbed his hand while blasting his deputy prime minister over Russia's humiliation in Ukraine.
There has been speculation over Putin's health for months, with the one-time macho action man no longer seen playing ice hockey, or going topless on horseback. 
Sources also claimed he had emergency surgery last year and was shadowed by a team of top doctors.
Earlier this month, Ukraine's spy chief claimed Putin will "die very soon of cancer".
It comes as Putin's war continues to falter in Ukraine amid rumours he could step down this year.
One of his military commanders has said Russia faces collapse and a civil war that could kill millions.
Warlord Igor Girkin, former senior intelligence and army officer who helped mastermind Putin's land grab in Ukraine, has frequently criticised Putin's handling of the war.
He has repeatedly called for a mass mobilisation to avoid defeat for Russia.
Read More on The Sun
I'm a speed camera officer… here are three myths drivers always get wrong
You're charging your iPhone wrong – how to make it charge much faster
Girkin said on a broadcast that needs to happen if "we don't want to collapse into a civil war with millions of casualties".
He warned this could lead to the "fragmentation of Russia" unless more was done.
Source: Read Full Article