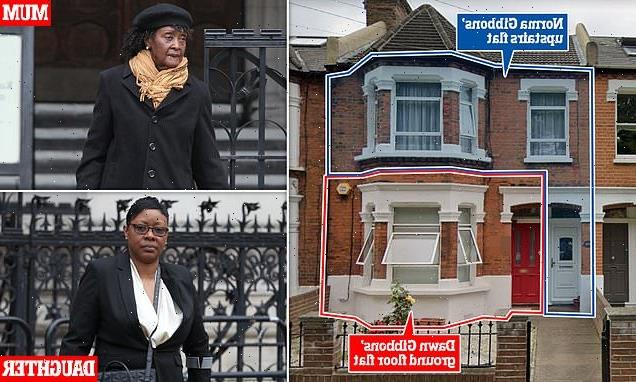 EXCLUSIVE: Mother, 82, who is facing eviction from her £600K upstairs flat in bitter legal battle with her own daughter says she worked two shifts a day as a nurse to buy her home and pay for her child to go to private school
Norma Gibbons, 82, signed over home to daughter for 'inheritance tax' reason
But she and Dawn Gibbons, 52, fell out now younger woman is trying to evict her
The pensioner at the centre of an eviction battle to stop her own daughter kicking her out of her £600,000 flat declared today 'I've worked all my life – where am I supposed to live now?'
Norma Gibbons, 82, and 52-year-old daughter Dawn have been rowing for six years after falling out over accusations – she denies – the elder woman had raised her voice to her young granddaughter.
The pair live in upstairs and downstairs flats worth a combined £1.4million in a converted house in south London . They had previously owned Norma's upstairs apartment together.
But in 2004 she transferred it into her daughter's sole name for 'inheritance tax reasons,' a judge heard. Now after the row she faces being thrown out of her three-bedroom home.
Norma worked two shifts a day as a nurse to buy the upstairs flat in 1980, having lived there since 1962.
Extra shifts were also put in to send her daughter to private nursery and extra school tuition.
Norma Gibbons outside Central London County Court after the hearing with daughter Dawn
Dawn Gibbons outside Central London County Court after the hearing over the row with her mother Norma over Norma's flat
Today, speaking from the contested home, Noma told MailOnline the battle was making her ill.
She disclosed: 'I'm an ex-nurse, I've worked all my life. I'm not on benefits.
'I thought she was an honest girl,
'I worked all my life and now look at me. I would never have given it away.
'Where can I find to live when I've lived her for nearly 40 years?
'I was living up here and she was living down there then, she had a key to come in.
I'm not well, the stress makes me more unwell. I haven't slept all night.'
Norma, who has been in the flat in Earlsfield for more than 40 years, is fighting the claim, arguing that she would not have signed over the flat if she thought her daughter would kick her out.
The upstairs and downstairs flats in Earlsfield, at the centre of the court fight between Norma Gibbons (white door – upstairs) and Dawn Gibbons (red door – downstairs)
Representing herself at Central London County Court last month, Dawn – who works in finance – said she had a good relationship with her mother before they fell out – which happened after she herself became a parent in 2008.
She said she had severed ties with Norma because she 'shouted' at her young daughter and that the row had spiralled into a full relationship breakdown and a series of court cases.
She had complained about banging noises from the flat above and had sued to try to force her mother to let builders in to repair a leak which she says is damaging the electrics in her £800,000 downstairs apartment.
And she claims her mum has repeatedly refused to allow people into the £600,000 flat upstairs to investigate problems, ignoring court orders demanding that she allow access for repairs to take place.
The upstairs and downstairs flats in Earlsfield, at the centre of the court fight between Norma Gibbons (white door – upstairs) and Dawn Gibbons (red door – downstairs)
'I have served her a number of orders which she has ripped up and thrown into the garden,' she told Judge Richard Roberts.
'I need my builder in there to survey what damage there is and what repairs need doing.
'Water is coming through my ceiling. I have mildew. The damage is unrepairable, I have to have access to upstairs.
'I am seeking possession because the defendant has continued to ignore orders of the court.'
'I have been trying since 2017 – from friends to family, police, through the courts, through environmental services.
'The electricity is failing in my home. My daughter and I are in danger.
'I have pleaded with the defendant. What more can I do?'
But for Norma, barrister Lara Simak said it is the mother's case that the leak has already been repaired and that she did not refuse access.
And she said she would be claiming a right to stay at the flat on the basis that she would not have otherwise signed it over.
'When transferring the property into her daughter's name, she had an expectation to live there for the rest of her life,' she told the judge.
'Certainly, she didn't expect to be kicked out of her flat by her daughter, otherwise she wouldn't have transferred it.'
Judge Roberts gave directions for a trial of Dawn's bid to kick her mother out later this spring.
He said that, in the meantime, Norma must allow her daughter access to investigate what repairs might be needed.
'How does this carry on? The ceiling will fall down,' he commented.
Dawn Gibbons declined to comment at her home today. 
Source: Read Full Article