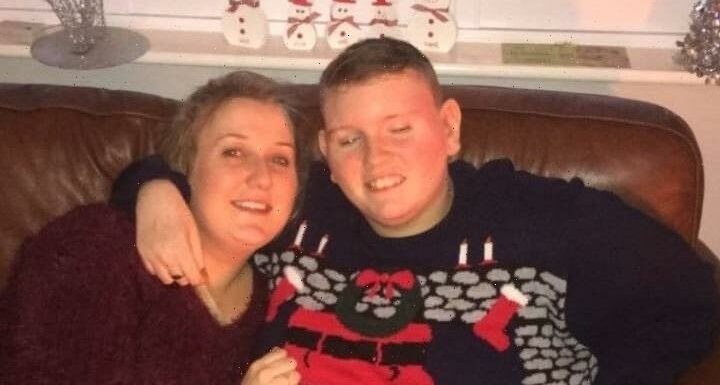 A MAN has tragically died after suffering from a headache and runny nose less than two days earlier.
Rhys Leatherbarrow, 28, who had autism and was registered blind, was due to attend his adult service programme when he began feeling unwell.
Unbeknownst to his family, sepsis was shutting down Rhys' body with every passing minute.
His big sister Kami says losing her little brother still hasn't sunk in.
"We're still waiting for him to come out from behind his bedroom door," she told the Manchester Evening News. "He would always come out and wind me up."
Rhys, from Golborne, Wigan, was just 28-years-old when he passed away in hospital on December 23.
His cause of death was found to be multi-organ failure caused by pneumonia and two cardiac arrests.
Kami continued: "He came home and complained of a headache and sniffly nose. We gave him two paracetamols and said he could stay home from adult services which he was happy about.
"The next day, after I gave him some chicken and chips, I saw his bedroom door was open. I thought, 'He's eaten that quick'. I went in and he collapsed on me, I shouted my friend and I literally had to drag him to his bed so I could get him in a safe position."
Emergency services were called and Rhys was rushed to hospital. Within the first two hours of his arrival, he suffered two cardiac arrests and was placed onto life support.
Most read in The Sun
Witness says 'there was no barking – just screaming' as woman mauled to death
Warning as popular drink 'doubles' your risk of cancer if you have 2 or more a day
Noel Gallagher divorcing wife Sara & split could spark Oasis reunion with Liam
Dog walker mauled to death when eight pets turned on her 'like small wolves'
Sadly, his condition only deteriorated from there. Rhys' family, including Kami, mum Janis and dad John, were called and asked to make their way to his bedside.
"Within six hours, he passed", Kami said. "It was so sudden but so shocking at the same time."
"Rhys was a happy, loving young man. He loved being around people and making them laugh – most of all getting his sister into trouble."
Rhys loved going to the cinema, watching plays at the theatre and was a big fan of Disney – particularly the character Tinkerbell.
Rhys' funeral was held at St. Thomas Church in Golborne on Wednesday (January 11). A GoFundMe fundraiser has been set up to help the family pay for the costs.
Source: Read Full Article