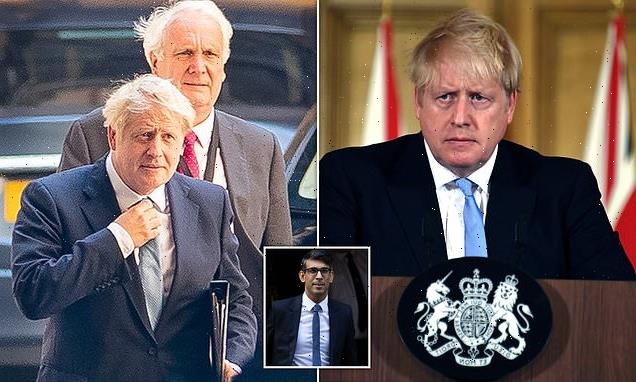 'I would never say never about Boris Johnson': Former Prime Minister may yet find a way back to No. 10 despite leaving in shame, says former aide
 Boris Johnson could return to Downing Street, former aide Lord Udny-Lister said
 It comes as Rishi Sunak flounders in the polls, some 25 per cent behind Labour
A Times poll found seven in ten believe he will not be PM after the next election
Boris Johnson could find a way of becoming prime minister again, a former aide claimed today.
Lord Udny-Lister said he would never rule out a comeback by Mr Johnson who was ousted from power after three years last September.
It comes as Rishi Sunak flounders in the polls, with the Tories up to 25 per cent behind Labour. One survey suggested only 27 per cent of voters think he has done well since becoming Prime Minister in October.
And seven in ten believe he will not be PM after the next election, according to the poll for The Times.
Prime Minister Boris Johnson straightens his tie as he arrives at Parliament with Sir Edward Lister, his Chief of staff
Lord Udny-Lister predicts it is possible Boris Johnson could return to power
Lord Udny-Lister, who worked for years with Mr Johnson in No10 and when he was London Mayor, said: 'I would never say never about Boris Johnson… because I think he has such tremendous skills. And I think there is a route back for him.' He told radio station LBC that Mr Sunak can win the next general election – due in 2024 – but warned: 'The path to victory is a very narrow one.
'I think it is going to be quite difficult for him – he's not a Boris Johnson. He can't get out there and tell the story in the way Boris Johnson could.' 
He hailed Mr Johnson as 'probably the best campaigner we've ever seen', adding: 'Rishi Sunak hasn't got those skills, but what he has got – and I've seen him at work – is he is a very analytical man, who does go through things in detail, is very cautious, is going to do the right thing.'
He stressed: 'We have a prime minister who really is the chief financial officer rather than the chief executive… now can Rishi Sunak make the transition? Can he actually get out there and start telling the story?'
Meanwhile, Mr Johnson was asked about his political future in an interview with America's ABC News Live. He said: 'You never say never in politics. But the reality is that I am living a happy productive life.
'I have got to write two books – and if you ask me what my passion at the moment it is making sure we… help the Ukrainians.'
Pressed again on his future, he added: 'I'm thudding away on my computer… You know what it is like – books don't write themselves.'
Source: Read Full Article