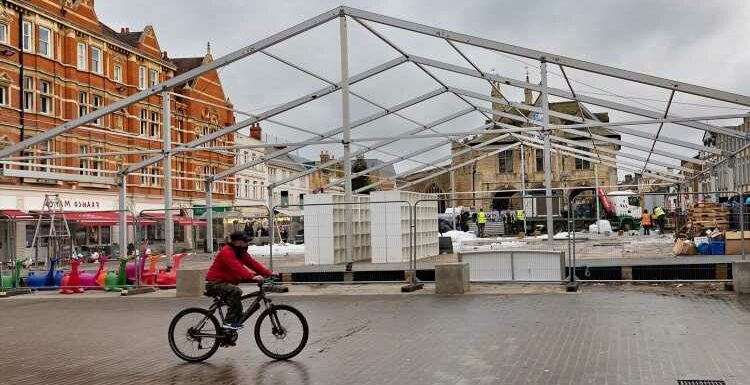 RESIDENTS have blasted their city as one of the "worst places to live in the UK" with an eyesore swamping streets with filthy water.
Locals in Peterborough say they are fed up with their grubby, boring and crime-ridden city that continues to spiral downhill.
The cathedral city is set to be named the worst place to live in the country for the fourth time in five years.
And it's seen one failed attraction leave the streets flooded with filthy water.
A giant ice rink located outside Pizza Express is currently being dismantled after leaving thawing water swamping the streets.
The huge installation was also described as unsightly and noisy by fed-up locals who branded it a "waste of money".
Read More in News
Lovelorn Brits reveal strangest reasons why they've broken up with a partner
Harry says he and Meghan never accused royals of racism despite Archie claim
Retired carer Sheila told The Sun: "That ice rink for Christmas was a complete waste of money, no one seemed to use it and now it's being ripped up and chucked away."
Sheila, who turns 80 this month and has always lived in Ely on the outskirts, said: "There's nothing decent about this place.
"It's a dump. But would I move? No way, better the devil you know than the devil you don't know."
While daughter Lyn Hammond, 50, was less favourable with her language, stating: "It's a s*** hole. The best thing about Peterborough is the road out!"
Most read in The Sun
Love Island signs Michelle Keegan lookalike Olivia Hawkins
Love Island full cast revealed – from 'blind' star to Michelle Keegan's double
Harry says he and Meghan never accused royals of racism despite Archie claim
Pregnant Jessie J breaks down in tears & says 'I can't explain how sick I feel'
The pair, out shopping with Lyn's two-year-old grandson, grumbled that there was "nothing to do for the kids or parents" and the city has been "getting worse over the years".
Lyn said: "The streets are dirty, there isn't any life here and so many shops have closed."
The mum, who has kids aged between 22 and 32, told how the local Asda supermarket loos were "absolutely disgusting".
She said: "We complained to the cleaners because the toilets were filthy and there was nowhere to change my grandson, no changing table so I had to take my coat off and put it on the floor to give the baby a new nappy."
She added: "The best place is the bus station, get the bus out and get bloody gone. There's nothing good about this place."
Homeless man Marcus Walker, 34, was even more critical of the city, saying: "Send people here and not to jail. Peterborough should be the new prison colony."
Marcus, who sleeps rough, wanders around the streets with his two shopping trolleys.
And he agreed with others, warning: "It is an absolute s*** hole! It's full of smack heads and alcoholics.
"Do not come here unless you want to ruin your life."
Peterborough-born Marcus, who once moved to South East London but returned for family reasons, said: "It's never been a good place but it can't get any worse. It is horrible.
"But maybe there is room for improvement."
However, Marcus did say he survives on "food from here, there and everywhere" and praised locals for helping him and his homeless mates out.
He added: "You wont go hungry here, people look after you."
It's a s*** hole. The best thing about Peterborough is the road out
While Lithuanian Arvydas Kurauskas, a Vodafone brand ambassador for broadband, said he was struggling to think about what is good in Peterborough.
He said: "I notice all the dropping of litter here, Lithuanians are the worst and I am not very supportive of my nationality, and others will pick it up.
"The city is scary. There are quite a lot of play areas for the kids but if I had kids I wouldn't let them play here.
"I would need to think quite a lot about what is good – there is nothing good."
Peterborough faces being named the worst place to live in England again in 2023 after racking up the most votes in a survey run by satirical site ILiveHere.
It has seen the city claim the ignominious prize of winner in 2019, 2020 and 2021.
During the last survey, the city which is just 50 minutes from London by train, was described as a "dump".
However, some residents say it's not all doom and gloom in Peterborough.
Local resident Kayleigh Protheroe, 29, disagreed with the negative comments, insisting: "It is a nice city centre and very historic. People are very friendly and welcoming.
"There's Queensgate shopping centre, lots of places to eat and socialise in the day and night and there's walks along the canal and crazy golf for families."
Retired driving instructor Barrie Weston, merrily riding along on his mobility scooter, added: "It's alright here, it has it's  good and bad like all places.
"The cleanliness or lack of it is a problem along with the homeless.
"We still have a good shopping centre despite John Lewis being closed two years ago which was a big loss.
"I've lived here since 1955 and the place has changed so much."
Read More on The Sun
I worked at Yankee Candle – many don't know our 'jar for jar' policy
Love Island's first ever 'blind' contestant Ron Hall unveiled
Fellow resident Julie Hunt said: "I'm happy living here and I love that everybody lives here from the Indian to Polish population.
"We don't have tourists here but locals visit the cathedral which has lovely architecture."

Source: Read Full Article