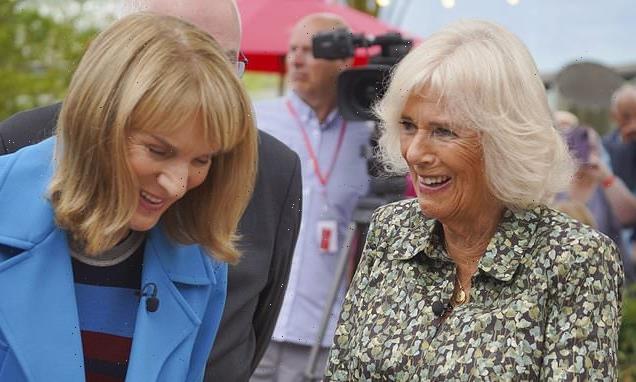 Camilla to appear on Antiques Roadshow: Queen Consort will show off priceless silver snuff box made for one of King Charles's ancestors – before giving silver expert Duncan Campbell a history lesson on the 'absolute treasure'
Detailed piece was crafted in 1811 for Prince Regent from rare Cornish silver
Mr Campbell said the interior was 'beautifully gilded like the day it was made' 
READ: Antiques Roadshow expert reveals items that could be worth thousands
The Queen Consort will go on Antiques Roadshow tonight with a priceless silver snuff box made for one of the King's ancestors.
The intricately detailed piece was crafted in 1811 for the Prince Regent from rare Cornish silver with a gilt interior.
On tonight's episode of the BBC One show, Camilla shows the box to silver expert Duncan Campbell.
She tells him: 'I wanted to bring something that was associated with Cornwall.
'It doesn't exist now, but in those days there was a silver mine here for Wheal Duchy, 40 minutes away, and this was the result of Wheal Duchy. It was given to a forebear of my husband.'
The Queen Consort (left) is to have two personal items examined by Antiques Roadshow experts when she guest stars in a special episode of the BBC show
The Duchess of Cornwall (middle left) with BBC presenter Fiona Bruce (left) during a visit to the Antiques Roadshow at the Eden Project in Bodelva, Cornwall, in September last year
Mr Campbell described the hinged box as an 'absolute treasure' as he examined its gleaming interior.
READ MORE: The BBC is planning a shake-up of Antiques Roadshow and says it is 'open to suggestions' on refreshing the production team – as it warns producers to be mindful of 'reputational risk' when discussing the British Empire 
The box was presented to the Prince Regent, who later became King George IV, by Secretary of the Admiralty and Surveyor-General of the Duchy of Cornwall, Benjamin Tucker.
An ornate inscription inside reads: 'To the Prince Regent, with the humble duty of the adventurers, in his Royal Highnesses silver mine of Wheal Duchy, 1811'.
Mr Campbell said the interior was 'beautifully gilded like the day it was made'.
He said: 'The craftsman who made it was called John Northam who has various boxes made for the Prince Regent back in 1800-1820. He was an extraordinary man. He had the good commissions.
'It's the first [peice] I've seen which is made out of English silver.'
Camilla acknowledged: 'We're not known for our silver, are we?'
She added: 'I'm so delighted that I've brought something you've never seen before. I was determined to find something associated with Cornwall.'
The box's silver was extracted from the Wheal Duchy mine, which operated between 1810 and 1816. Silver is rarely found in England but that deposit was discovered while the miners were prospecting for copper.
The lid is cast with the Prince of Wales' feathers, coronet and Garter motto on a matted ground within an oak leaf and acorn border.
The giving of the box to the Prince Regent was reported in The Gentleman's Magazine and other contemporary newspapers.
Source: Read Full Article