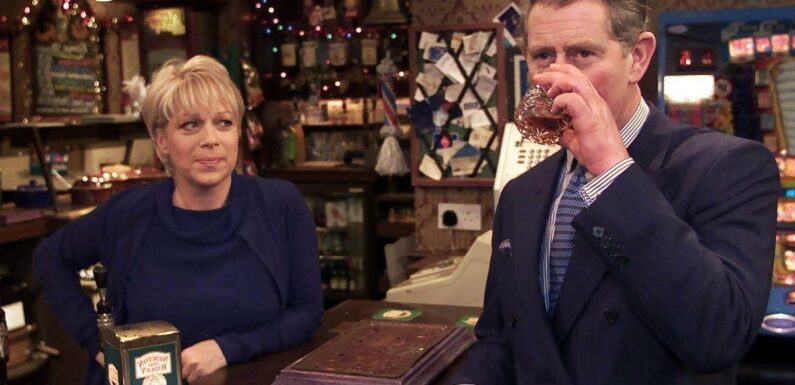 Denise Welch recalls 'scarring' experience with social media
We use your sign-up to provide content in ways you've consented to and to improve our understanding of you. This may include adverts from us and 3rd parties based on our understanding. You can unsubscribe at any time. More info
Loose Women panellist Denise Welch, 64, sometimes arrived for work at the Coronation Street set while still under the influence after staying up all night. The star, who is currently appearing alongside her husband Lincoln on BBC show Unbreakable, reveals she found it very tough to cope with starring in the ITV soap as Natalie Barnes, after landing the role in 1997.
She said: "If I was away from home, I would be awake all night and go straight to work. That wouldn't happen now on TV shows.
"There were times when I shouldn't have even been on. But it was a different time."
Denise candidly added to Rob Beckett and Josh Widdicombe's Parenting Hell podcast, in quotes obtained by The Sun: "My drinking really started to be a problem during the Coronation Street times. I had always loved a party.
"But that was getting p***ed on a Saturday night and feeling rough on a Sunday. I didn't have a problem.
"When I was doing Corrie it was watched by 21million people an episode. That is a third of the country. There is a lot of f***ing pressure on you for that."
Denise revealed the demands of the role got on top of her, as she used her alcohol dependency to numb the pain of her depression.
She recalled: "The schedule was unforgiving. Rather than stay off work — people stay off if they've lost an eyelash these days — I was from 'the show must go on' school.
"There were times when I think I should have stepped back."
Denise went on to explain she felt she would have had more sympathy if she had a physical illness, rather than a mental illness.
However, the presenter began to feel isolated due to her condition, and started relying on drugs and alcohol to cope.
She continued: "But the horrible isolating thing about depression is you have an invisible illness. And that is when the alcohol started and that is when the drugs started.
"There are no excuses for my behaviour. But there are reasons for it.
"My problem with alcohol dependency was trying to numb my illness."
DON'T MISS:
James Martin insists he has 'no interest' in marriage or kids [COMMENT]
Heidi Klum, 49, wows as she unveils ability to make her cleavage dance [VIDEO]
Mike Tindall's I'm A Celeb move 'met with disapproval by King Charles' [OPINION]
Denise previously opened up on suffering from postnatal depression after the birth of her son, Matty Healy, 33, who is the frontman of pop-rock band The 1975.
Postnatal depression affects around one in 10 women within the year that they give birth.
Denise previously addressed her struggles on Instagram, alongside a photo of herself during her pregnancy.
She wrote: "This is two days before Matty was born, April 1989. Happy, excited, nervous. I had a brilliant pregnancy and wasn't even bothered when he was nine days late!
"Long labour but he was a healthy 8lbs and we were thrilled with our beautiful boy. I wasn't anxious. I loved the first few days even though he cried a lot.
"A week later out of nowhere, during a walk with my mum, my life changed forever.
"After my first ever panic attack a feeling of unreality came over me and within an hour I was in a thick, black, terrifying depression."
Fortunately for Denise, she was put in contact with a doctor named Professor John Studd, who discovered the hormonal cause of her mental health struggles.
"About 13 yrs ago a gynaecologist in London was recommended to me. Professor John Studd," said Welch
"He found me to be very severely deficient in oestrogen. My life changed that day."
If you are affected by anything in this article, call The Samaritans on 116 123, or Alcoholics Anonymous on 020 7407 0700
Source: Read Full Article