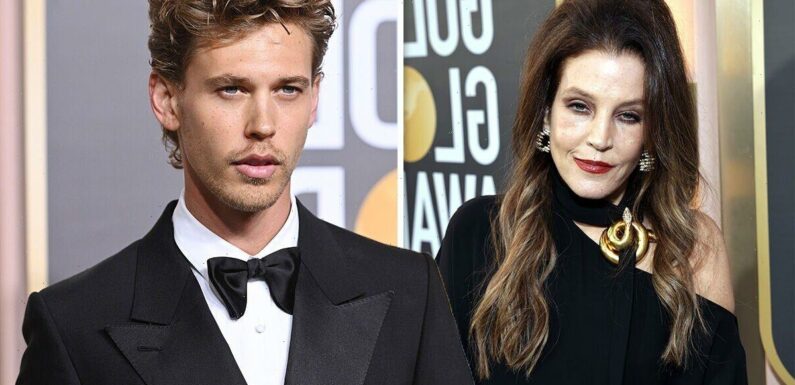 Austin Butler recalls preparing for Elvis biopic
We use your sign-up to provide content in ways you've consented to and to improve our understanding of you. This may include adverts from us and 3rd parties based on our understanding. You can unsubscribe at any time. More info
Austin Butler, 31, who played Elvis Presley in Baz Luhrmann's recent biopic, has broken his silence over the death of the King of Rock and Roll's daughter, Lisa Marie Presley. The Hollywood actor said his "heart shattered" after hearing the tragic news that the singer-songwriter had died aged 54.
The only child of Elvis and Priscilla Presley died after reportedly suffering a cardiac arrest two days ago.
Austin paid tribute to the late star yesterday in a moving statement to the US media.
"My heart is completely shattered for Riley, Finley, Harper and Priscilla at the tragic and unexpected loss of Lisa Marie," he said.
"I am eternally grateful for the time I was lucky enough to be near her bright light and will forever cherish the quiet moments we shared.
READ MORE: Gino D'Acampo says wife 'knew he would break the cage' in marriage
"Her warmth, her love and her authenticity will always be remembered," he added in his statement to E!.
Lisa Marie and Austin had formed a close friendship following the release of the 2022 biopic about her father.
Remembering meeting the late singer, he shared: "She hugged me with tears in her eyes, and she just said, 'Thank you.'
"She took me upstairs and we went into Elvis' bedroom and just sat on his bed and just talked for hours," he told the Hollywood Reporter.
Lisa Marie seemed thrilled with how Austin had managed to embody her late father elvis.
In May, she wrote on Instagram: "In my humble opinion, his performance is unprecedented and FINALLY done accurately and respectfully.
"(If he doesn't get an Oscar for this, I will eat my own foot, haha.)," she added.
Just earlier this week, Austin and Lisa Marie appeared together at the Golden Globe Awards.
Escape to the Chateau's Angel Strawbridge admits issues at home [NEWS]
Warwick Davis 'devastated' and 'can't get over' wife's loss [INSIGHT]
'Goddess' Amanda Holden's hottest bikini pics unveiled [PICTURES]
Austin even thanked her in a now heart-wrenching tribute during his acceptance speech for his award for Best Actor in a Motion Picture – Drama.
He told the Golden Globes audience: "Oh man, all my words are leaving me! I just am so grateful right now, I'm in this room full of my heroes."
He then spoke directly to Priscilla and Lisa Marie, who were all smiles, as he continued: "Thank you for opening your hearts, your memories, your home to me. Lisa Marie, Priscilla, I love you forever."
He later gushed about the Presley family to reporters, adding: "I just feel so endlessly grateful to them that they provided the space for me to somehow try to capture the essence of this man that meant so much to them and that they love so much."
Yesterday, Lisa Marie's mother Priscilla confirmed the sad news of her daughter's death in a statement obtained by People.
She said: "It is with a heavy heart that I must share the devastating news that my beautiful daughter Lisa Marie has left us.
"She was the most passionate, strong, and loving woman I have ever known.
"We ask for privacy as we try to deal with this profound loss," Priscilla added. "Thank you for your love and prayers. At this time there will be no further comment."
Source: Read Full Article