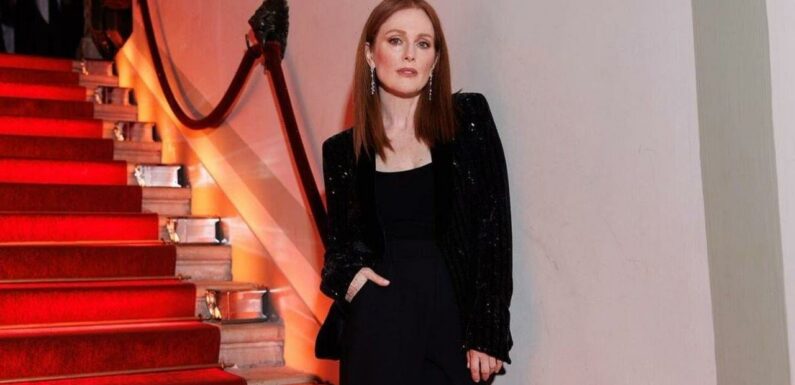 The 'Game Change' actress feels really blessed with 'good fortune' as the star continues to enjoy her work as an actress and successful acting career in Hollywood.
AceShowbiz –Julianne Moore thinks her dazzling Hollywood career is down to "good fortune." The 62-year-old actress began her acting career in the 1980s and has won multiple awards, including an Oscar, a BAFTA, two Golden Globe Awards, and two Emmy Awards, and she still very much enjoys her work.
"I look back, and I'm like, 'I can't believe I've actually been doing this for this length of time.' I've had good fortune. I continue to enjoy it. That's the other thing that's really great," she said of her longevity in the movie business when speaking to the new issue of PEOPLE magazine.
Although she still loves what she does, after almost four decades in movies and TV, the "Saving Grace" star admits she needs to be "surprised" by a script to take on a role now.
The Hollywood star is often sent scripts to read that feature parts which are similar to those she has played before but admitted that her latest project, "Sharper" – which follows a young man who exacts revenge on his family for not accepting him and cons other rich people to gain the wealth he desires – features a twist she "didn't see coming."
"A lot of the time I get told, 'I thought of you for this script,' and they'll send it to you, but they thought of me because of something I just did. I want to be surprised," says the actor, "Usually, having been doing this for as long as I've been doing it, you can get ahead of the screenplay, and I see what's being set up. But when I read it, I really didn't see it… coming."
The award-winning star – who stars alongside Sebastian Stan and John Lithgow in the Apple+ movie – went on to add that she was interested in how the characters related to one another and was fascinated by the "deep pleasure" that she thinks must be associated with being in a cult.
She said, "I'm interested in behaviour, in how people communicate with each other. Why do people get involved in a cult or involved in these schemes? There has to be a deep sense of pleasure. Let's face it, there are lots of easier ways to live than the way these characters choose. There has to be an element of addiction to the thrill."
You can share this post!
Source: Read Full Article