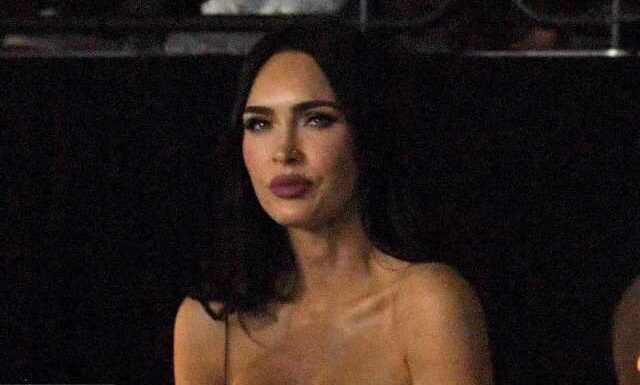 The 'Teenage Mutant Ninja Turtles' sparks the speculations after she shares photos of herself rocking hot pants and a sparkly bra that she pairs with knee-high socks and heels.
AceShowbiz –Megan Fox has left fans wondering whether she has gone under the knife to enhance her physical appearance. The "Transformers" actress sparked plastic surgery rumors after she posted some pictures of herself on Instagram.
The said photos were taken at Beyonce Knowles' 41st birthday party. In the post, Megan was seen rocking hot pants and a sparkly bra that she paired with knee-high socks and heels. The outfit allowed the 36-year-old to showcase her ample cleavage and washboard abs, prompting fans to offer their two cents.
"They're new," one person in particular commented. "Loving the new additions," another individual opined, while a third asked, "Does anyone else think she got augmentation recently? Not judging or anything against it just genuinely wondering. She is beautiful & had perfect [breast] before, but they do look a bit different now in these pictures I don't think its push-up or an optical illusion."
Others, meanwhile, were not feeling Megan's new look. "Those implants look painful," one user penned. "Noooooo! She didn't need those," someone else lamented. "Eww she got her tits done?!? midlife crisis worsening," another chimed in.
Plastic surgery rumors aside, Megan's new post proved that her relationship with Machine Gun Kelly remains strong. In the third snap, the "Jennifer's Body" star was seen sitting next to her fiance as she put her legs on his lap.
A source previously told HollywoodLife.com that despite their quieter romance, Megan and MGK "are far from breaking up and still fully planning on getting married." The source added, "But right now the major focus is on his tour which goes until mid-October."
While they used to draw a lot of attention early in their relationship, Megan and MGK reportedly want a low-key wedding. "They do both joke about running off to Vegas and eloping so that's always a possibility, no one would be too shocked," the insider explained.
Source: Read Full Article