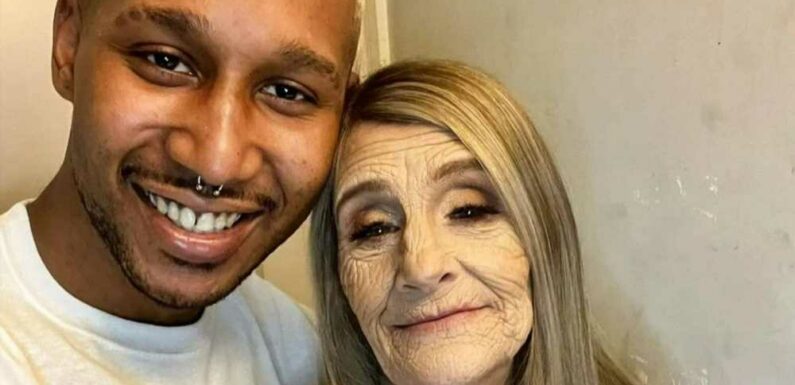 A GRANDMOTHER who married a 23-year-old man has revealed the couple are now trying for a baby.
Cherly McGregor is 62-years-old and tied the knot with her now 25-year-old husband Quran McCain 18 months ago. 
The mum-of-seven has 17 grandchildren, meaning her tot will be younger than its nieces and nephews. 
McGregor claims she has "more energy than half of these kids that are taking care of babies now".
The nan has been trolled online for her decision to have a baby.
She has been told she is "too old" to become a mother again and her age-gap relationship is "disgusting".
read more real life
I was the hottest teacher, parents hit on me & their kids weren't in my class
I'm a mum-of-13 & shoppers accuse me of selfishness when I clear shelves
McGregor's response to one troll commenting on her age was simply: "I don't care."
Speaking on This Morning, she elaborated: "They said, I guess just because of my age, I can't take care of a baby.
"I've got more energy than probably half of these kids that are taking care of babies now and I don't see it is a problem.
"This is a happy, healthy marriage. 
Most read in Fabulous
I used to have big boobs – I got a breast reduction & now I'm being trolled
My family say I've named my daughter after drugs – I don't care, I love it
People always mispronounce my daughter's name and they will her whole life
King Charles announces new Duke of Edinburgh – and other royal titles
"We're looking to start our family and this is all we got."
McGregor is unable to carry a baby but the couple revealed they have spoken to three surrogates. 
They are also open to adopting a child.
McGregor believes it is "never too late" to have kids and regularly shares flirtatious videos on Tik Tok about her sex life with McCain. 
The pair, both from Georgia, US, met through the video sharing app and initially posted dancing videos as friends. 
Eventually, McCain realised he had feelings for his now-wife and confessed. 
The lovebirds were engaged within eight months and eloped for their wedding in Tennessee, US in September 2021. 
Unfortunately, their age-gap relationship has cost McGregor her familial relationships, as she revealed only one of her children has stuck by her. 
Read More on The Sun
I caked my face in makeup for my passport – people say customs won't let me in
Couple add £180k to the value of their home spending £6k in the process
The pair have racked up over four million followers on Tik Tok from sharing insights into their unique relationship.
They will likely update their fans on the progress of their journey to have a baby.
Source: Read Full Article