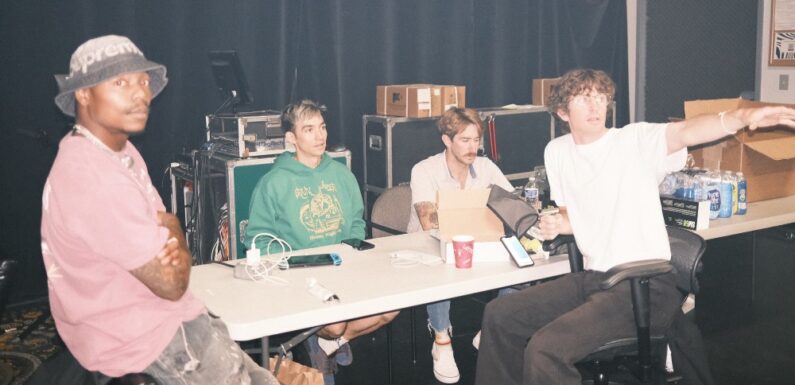 Pulse Music Group has signed punk band Turnstile to a worldwide publishing deal via a creative joint venture with Rick Rubin's American Songs. The agreement covers Turnstile's entire song catalog, including their 2021 record "Glow On," which boasts Grammy-nominated singles "Blackout" and "Holiday."
"We have been waiting a very long time for the next great rock band to emerge and feel very fortunate that we will get to work with Brendan and the band," commented Scott Cutler, co-CEO of Pulse Music Group. "Welcoming Turnstile to our Pulse Music Group roster is a great example of what we set out to do creatively when we formed our joint venture with Rick Rubin. We're proud to welcome Turnstile to our roster and to partner with American Songs to publish culturally impactful talent."
Formed in 2015, the American Songs joint venture with Pulse Music Group is also home to Kaytranda, American rapper El-P (Run the Jewels), Chad Hugo (the Neptunes) and Romil Hemnani (Brockhampton), along with such artists as Kevin Abstract, Jean Dawson, Charley Crockett, Colter Wall, Marcus King and Freddie Gibbs.
"We are beyond excited to welcome Turnstile to our American Songs family," said Isaac Heymann and Michael Goldberg of American Songs. "We look forward to helping their limitless expansion."
The Baltimore-based band — comprised of Brendan Yates, Franz Lyons, Daniel Fang, and Pat McCrory –is currently on tour and will also set out to support Blink-182 on the North American leg of their arena trek throughout the summer.
+ Warner Chappell Music and Limited Edition Music, LLC have entered a new partnership to sign and develop emerging songwriters in the alternative, rock, pop, and alternative country spaces.
Greg Sowders, WCM's senior VP of A&R and catalog, will continue in his current role and also lead Limited Edition Music with Marc Wilson, a former WCM A&R executive. Emmyn Calleiro, from the band Games We Play, and rising country artist Bailey Callahan are the first signings.
"Greg has been a key fixture at Warner Chappell for more than three decades and has dedicated his career to building out a star-studded alternative and rock roster," said Guy Moot, WCM co-chair and CEO. "This is the perfect opportunity for him to continue to lead those efforts while also working with more emerging writers alongside Marc."
During his time at WCM, Sowders has signed and worked with such artists and writers as Twenty One Pilots, Greta Van Fleet, Travis Barker, Paramore, Tyler Childers and Billy Corgan, among many others. Wilson, "a former long-time veteran of WCM," helped sign and build a roster that included Lizzo, Steve Aoki, Ian Kirkpatrick, Sean Douglas, Sam DeRosa, Alec Benjamin, and more. In 2020, he launched United Songs Entertainment, which exclusively manages songwriters and producers.
+ Alex Coslov has been upped to the dual role of executive VP of marketing strategy for Republic Records and the head of marketing for Mercury Records.
Coslov initially joined Republic Records in 2017 as VP of marketing strategy and has served as senior VP of marketing strategy since 2021. He will continue to spearhead marketing campaigns for big-name acts like Morgan Wallen, Glass Animals, Pearl Jam, Eddie Vedder, Greta Van Fleet, Florence + The Machine, Noah Kahan, James Blake, Yung Gravy and more.
Before he worked at Republic Records, Coslov spent four years at Ultra Music where he led the marketing department and also worked as an intern at SESAC, Epic Records and Red Light Management. He was featured on Variety's Hitmakers and Hitbreakers list in 2021 and 2022 for his part in Glass Animals' evergreen hit, "Heat Waves."
+ The Human Rights Campaign has revealed singer-songwriter Ava Max will perform at the 2023 HRC Los Angeles Dinner, a fundraising event for LGBTQ equality, on March 25 at the JW Marriott Los Angeles L.A. LIVE.
"We are thrilled to have Ava Max perform at our Los Angeles Dinner. Ava is not only an extremely talented artist, but also an ally to the LGBTQ+ community. Having performed at PRIDE Festivals and queer venues around the world, her music has inspired millions of fans with her empowering message of embracing our own uniqueness and individuality," said Kelley Robinson, HRC president.
The Albanian-American artist joins a lineup that includes previously announced honoree Michaela Jaé Rodriguez. Max's full-length major debut album, "Heaven & Hell" (Atlantic Records), boasted the hit "Sweet but Psycho," which spent three weeks in the top 10 of Billboard's Hot 100 songs chart. She most recently released her sophomore album, "Diamonds & Dancefloors."
Tickets and further information are available at la.hrc.org/events/la-dinner.
+ Social Innovation Summit, a two-day flagship reunion and conference, has confirmed Steve Aoki as a headlining speaker at this year's event on June 6 and 7 in LA, coinciding with LA Tech Week.
Aoki will be on this year's main stage in conversation with Rembrandt Flores, the founder of 8Commas and co-founder of Flowing Ventures. The conversation will surround Aoki's A0K1VERSE, a metaverse and NFT membership platform.
Additional speakers include Ayele Shakur, president of Redstone Family Foundation; Gerald Chertavian, founder and CEO of Year Up; Maura Pally, executive director of Blackstone Charitable Foundation; Rembrandt Flores, co-founder of Flowing Ventures and founder of 8Commas; Elyse Cohen, president of Rare Impact fund and VP of social impact and inclusion for Selena Gomez's Rare Beauty; and Darnell Strom, partner and head of culture and leadership division for United Talent Agency.
+ The Jammcard social media platform has launched a new division, Jammcard Films, with a feature-length documentary called "Immediate Family."
The film tells the story of legendary musicians Leland Sklar, Danny Kortchmar, Waddy Watchel, Russ Kunkel and Steve Postell who played on countless albums for Linda Ronstadt, James Taylor, Carole King, Phil Collins, Jackson Browne, Stevie Nicks, Don Henley, and many more. The film was directed by Denny Tedesco ("Wrecking Crew") and is produced in partnership with Pfonetic and Submarine Entertainment.
Read More About:
Source: Read Full Article