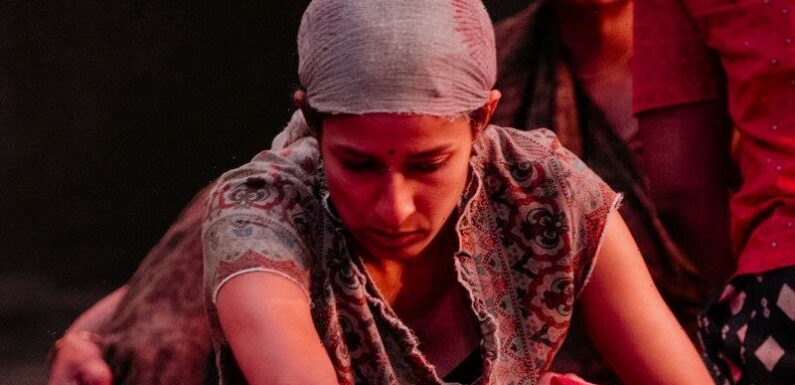 Our reviewers run a critical eye over some of the latest productions
THE JUNGLE AND THE SEA
Belvoir St Theatre, November 16
Until December 18
★★★★

You see that fake-tanned liar announce he's standing for US President again, and you fear for his country. Sri Lanka knows about civil war too well, especially the Tamils. All wars are horrific, but civil war compounds the horrors with neighbour slaughtering neighbour and even family betraying family. It is evil unleashed upon one's own. It is the stuff of nightmares and mythology, and the stuff of which The Jungle and the Sea is made. All three hours of it.
Emma Harvie in The Jungle and the Sea.Credit:Sriram Jeyaraman
Written and directed by S Shakthidharan and Eamon Flack (the team behind 2019's Counting and Cracking), the play lifts the half-healed scab on the Sri Lankan civil war. Although essentially about one family, it is epic in its ambition, sprawling across time (15 years), geography (traversing not just Sri Lanka, but stretching to Sydney's Bennelong restaurant), literary sources (from the Mahabharata to Antigone) and from words to music and dance.
Not since Opera Australia's 1980s production of Fiddler on the Roof have I seen a piece of theatre where the use of a revolve in the staging is so intrinsic to the story-telling. Continuously rotating at subtly fluctuating tempos, the revolve is both map and clock. It defines a world in constant flux, and, as it did in Fiddler, it provides the perfect theatrical metaphor for people journeying in search of an imagined paradise of safety.
The play, here having its world premiere, is dense, complex, subtle and too long. I understand it needs time to convey time: to impart that so much happens to so many characters. Yet, by its sheer duration (with two intervals), it ceases to be as taut as it wants to be. The telling develops a flaccidity that is anathema to the story being told.
That said, much of it is extraordinary, and in an age when possibilities of theatre seem to be ever shrinking to the literal, the domestic and the ticking of boxes, this dares to dream on an epic scale (like Lucy Kirkwood's Chimerica), while confronting us with the evil perpetrated against the Tamil people in the name of fighting terrorism. The revolve apart, Dale Ferguson's set is just two walls pockmarked by bullets.
Several of the miked-up cast of eight play more than one role, and it takes us a while to become conversant with the characters and relationships. There are no weak links among the actors. Anandavalli plays Gowrie, the mother who blindfolds herself when her family is scattered to the four winds by the war, refusing to remove this blindfold until they are reunited. Both she and Prakash Belawadi, who plays her husband, Siva, and a Catholic priest, are commanding presences upon the stage.
The scene between Siva and his daughter Lakshmi (Emma Harvie) in the Sydney restaurant (while a miniature, candle-lit Harbour Bridge revolves around them) is as finely wrought as a fugue, as he comes to accommodate her lesbianism atop her atheism.
Kalieaswari Srinivasan, Nadie Kammallaweera, Jacob Rajan, Rajan Velu and Biman Wimalaratne complete the cast, while musicians Indu Balachandran (veena) and Arjunan Puveendran (mridangam and vocals) are as interwoven into the play's fabric as the revolve.
Breaking with much contemporary, screen-derived playwriting custom, most of the scenes are long, and several are agonising. The point of the play is that true healing can only come with the cleansing of the wound – with truth. Sri Lanka still shies from this (just as Australia shies from its misbegotten treatment of Tamil refugees).
– John Shand
---
Tongue Tied
Kings Cross Theatre
November 11
★★★½
The stage is a place to puzzle out what it means to be human in the here and now. It's no surprise then that Clare Hennessy, a NIDA writing graduate who works across artistic disciplines, has written a play exploring contemporary tensions: sexual assault in the workplace, and the fraught search for justice in the aftermath.
Tongue Tied, a pleasingly sharp and short work, doesn't shy away from complication. Journalist Mia (Eloise Snape) is investigating a sexual assault at a too-cool juice startup. The founder (Michael C Howlett), allegedly fired his personal assistant Sarah (Clementine Anderson) after she filed a report to HR. Juice company PR man and longtime friend of the accused, Parker (Kieran Clancy-Lowe), is sent to respond to Mia's request for interview.
Mia and Parker trade barbs with an obvious chemistry that complicates the story, and things get murkier from there. Mia's editor Gail (Di Adams) fields concerns from "upstairs" about Mia's personal brand; meanwhile, Sarah is struggling with the process.
Di Adams as Mia's editor Gail, who fields concerns from "upstairs".Credit:
Hennessy began writing the play in 2017, and the result is a keenly observed and thoughtful work that isn't afraid to dig deep into emotion or motivation – and knows when to use the release valve of humour to keep itself afloat.
Much of the work is well-balanced. Its ending feels abrupt, though impactful, and a little more time spent with Sarah could have given the play's emotional core extra heft. But there isn't a moment that feels superfluous, and Hennessy's ear for charged conversation gives her characters vibrant life. She'd write a cracking and intelligent romantic comedy.
Director Sarah Hadley creates time and place on King Cross Theatre's tiny traverse stage with simple shifts in movement; the long board table that serves as the main feature of Cris Baldwin's set moves us across town simply by changing position.
With two performers (Anderson, replacing Alex Stamell in the role of Sarah, and Madelaine Osborn, playing Anderson's regular role as new juice PA Holly) stepping in script in hand after cast illness, there was a real risk of Tongue Tied losing its spiky momentum. Luckily, under Hadley, the production has found its internal rhythm; you barely notice those scripts after a moment or two.
Together, the company ask difficult questions; together, they give us a space to puzzle through, if not solve, big questions about systemic inequality, harm, and accountability.
– Cassie Tongue
A cultural guide to going out and loving your city. Sign up to our Culture Fix newsletter here.
Most Viewed in Culture
From our partners
Source: Read Full Article