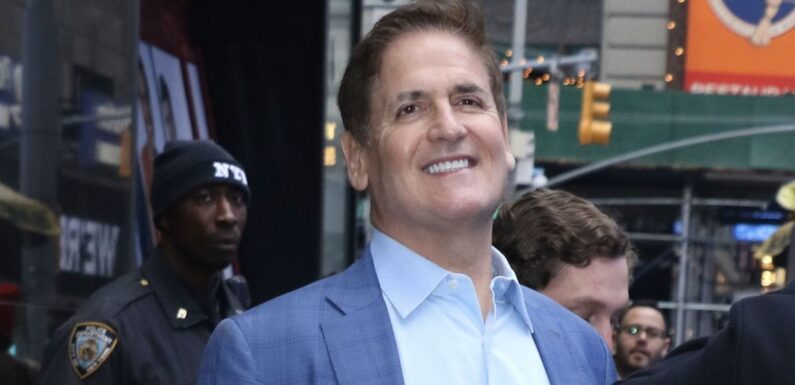 Mark Cuban's indulgent way of living exemplifies the decadence associated with the world's wealthiest individuals. As of 2023, his net worth is estimated to be $5.1 billion. Cuban's entrepreneurial reach has expanded dramatically from sports to entertainment and media.
His stunning Fountainhead yacht, a Gulfstream V private jet, and an art collection that captivates are included in the luxury realm. Cuban's diverse investment portfolio showcases his considerable wealth and interests. Step into the world of this celebrated entrepreneur, discovering eight of the most valuable assets that demonstrate a life of grandeur and successful ventures.
8

Dallas Mavericks

A post shared by Mark Cuban Companies (@markcubancompanies)

Known for their Texas roots, the Dallas Mavericks are a distinguished NBA basketball franchise owned by Mark Cuban. Since Cuban acquired the team, the Mavericks have done remarkably well. In 2011, their NBA championship victory was thanks to the exceptional talent of Dirk Nowitzki. During Cuban's tenure, the team earned a reputation for creativity and social responsibility. The Mavericks' gameplay consistently engages their fans, resulting in enduring support. Cuban's fusion of leadership and innovation has significantly enhanced the Mavericks' reputation as a highly esteemed and influential franchise.

RELATED: The Cuban Way: These Are Mark Cuban's Most Profitable Business Investments Ever
7

Magnolia Pictures

A post shared by Magnolia Pictures (@magnoliapics)

Magnolia Pictures is a well-known film distribution and production firm co-owned by Mark Cuban. It was founded in 2001 and is known for producing a broad spectrum of films, from indie treasures to thought-provoking documentaries. Magnolia's commitment to providing unusual stories to audiences earned it a prestigious reputation in the theater. Magnolia strives to allow filmmakers to display their perspectives with a portfolio that includes critically acclaimed movies. The company remains devoted to making great cinema available to many people through creative distribution tactics, which adds to the cinematic world.
6

AXS TV

A post shared by ClipTalks (@thecliptalks)

AXS TV is a cable and satellite-based television network specializing in entertainment, music, and live events; investor Mark Cuban co-founded it. After debuting in 2001 as HDNet, the channel changed its name to AXS TV in 2012. Live music performances, in-depth interviews, unique series, and MMA bouts are just some of the offerings on this channel. With Cuban's help, AXS TV has become known for its wide range of programming, especially in music and popular culture. The network's dedication to broadcasting live shows and original content has attracted viewers looking for distinctive forms of entertainment.
5

Landmark Theaters

A post shared by Landmark Theatres (@landmarktheatres)

Billionaire Mark Cuban is a co-owner of the Landmark Theaters business. The company's theaters are known for their particular emphasis on independent, international, and art-house films. Landmark Theaters is a chain with many sites around the United States, screening independent and foreign films and emphasizing cultural diversity.

RELATED: Billionaire Mark Cuban Invests In NFT Tracker "Cryptoslam"
4

Fountainhead Yacht

A post shared by The Yacht Group | Marine Technology Products (@theyachtgroup)

The Fountainhead, owned by Mark Cuban, is a colossal 288-foot yacht that visually represents his wealth and status. The 2018 acquisition is a gorgeous haven for relaxation, complete with a helipad, numerous decks for recreation, a jacuzzi, and plush living quarters. The yacht is an evident representation of Cuba's wealth and lavish lifestyle, thanks to its modern design that blends elegance and cutting-edge technology.
3

Gulfstream V Private Jet

A post shared by Piggy153 Aviation (@lord_cybertruck)

The luxurious and long-range Gulfstream V belongs to Mark Cuban. Its massive cabin and innovative facilities make it a comfortable travel experience. Business and leisure travelers like the Gulfstream V's transcontinental flight capabilities. Its long range and speed allow non-stop trips between distant destinations, improving efficiency and convenience. Cuban's Gulfstream V shows his love of luxury and efficiency, reflecting his millionaire lifestyle.
2

Real Estate Portfolio

A post shared by Motivation| Attitude |Success (@motivationattitudesuccess)

Mark Cuban has many valuable properties in his real estate holdings. He owns several homes, including an extravagant property in Dallas, a house in Malibu, and a summer home in Indiana. He has a significant stake in the old Wilson Building in Dallas, one of several real estate investments. Cuban also has a significant stake in the building of the Esquire Theater. These sites show how many different kinds of real estate he owns and how skilled an investor he is outside of entertainment, entertainment, and technology.
1

Art Collection

A post shared by Mark Cuban Companies (@markcubancompanies)

Mark Cuban's art collection is renowned as a reflection of his wide-ranging interests and discerning tastes. The collection is distinguished by its size and worth, and it consists of contemporary pieces created by well-known artists. It is widely considered that the collection of Cuban's consists of a diverse range of artistic expressions, including paintings, sculptures, and various other forms of artistic creation. The inclusion of art investments in his portfolio enhances its diversification and emphasizes his recognition of the value of artistic expression and cultural importance. Mark Cuban, a significant personality in business and entertainment, possesses an art collection that serves as a monument to his diverse range of interests and his capacity to discern and procure artworks that deeply resonate with him personally and artistically.

READ NEXT: These Are The Most Expensive Things Owned By Billionaire David Geffen

Sources: Gobankingrates, Scmp, Celebritynetworth

Source: Read Full Article