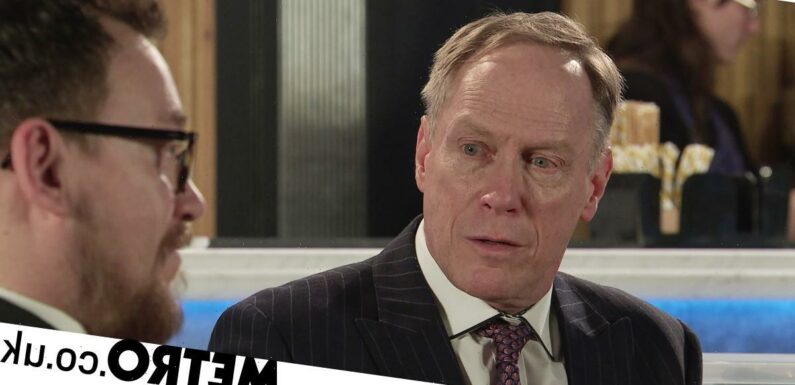 Carla Connor (Alison King) is in huge danger in upcoming Coronation Street episodes as she 'gets on the wick' of Stephen Reid (Todd Boyce) – who has already killed two people who got on his wick.
Todd Boyce told us that Carla is standing in the way of Stephen and his business ambitions. 'Carla's getting on his wick. She's got a business that I wouldn't mind getting my hands on and she's annoying me,' he said. 'She's the queen of Underworld and he'd like to be the king. She's skating on thin ice.'
Stephen tries to push his agenda to become king of Underworld by arranging a meeting with Rufus, a big player in the region's fashion industry. Showing him the designs that Michael Bailey (Ryan Russell) has come up with, Stephen gets Rufus to announce he'd like exclusive rights to the products.
Stephen's elated – and the only fly in the ointment is when Carla appears unexpectedly in the factory. After she's gone he tells Rufus that she's his PA, a lie which seems to satisfy the other man.
Later Peter (Chris Gascoyne) tells Carla he had a man in his taxi who told him he'd been at the factory striking a deal for a big order. Of course this is news to Carla – but as she reflects over the day's events will she realise that the man she saw with Stephen could be the same one who was in Peter's taxi – and thus work out what Stephen was up to?
It's all leading to an epic showdown between Carla and Stephen, and possibly great danger for Carla.
Show boss Iain MacLeod has hinted about what's to come.
'Psychological warfare begins between those two, freighted with knowledge on the viewers part that Stephen's killed someone,' he promised.
'If anyone predicts what Stephen does to Carla, I'll eat my hat! His plan is so out there and dark that I'd be incredibly surprised if anyone spots it coming over the hill.'
Consider us intrigued – and a little bit scared.
Source: Read Full Article