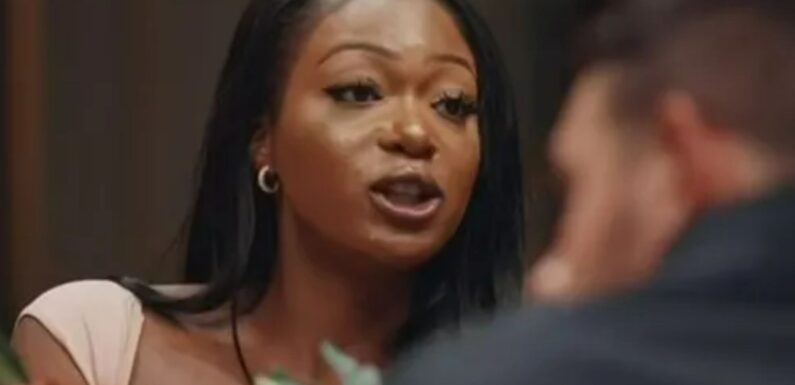 MARRIED At First Sight's Porscha Pernnelle broke down in tears and stormed out of a dinner party last night.
It all kicked off as Porscha, 36, was dining with her 'husband' Terence Edwards, 40, who she 'married' on the E4 show.
The former stripper couldn't stop bickering with the dad-of-three in explosive scenes filmed during their Morocco honeymoon.
When Terence branded his bride "childish" for refusing to use his serving spoon, she fumed, "I can't stay here," and walked out.
It comes after MAFs fans branded Porscha a "gold digger" after she made some unreasonable demands of Terence.
The unlikely couple were enjoying a relaxing stay abroad, but the peace was quickly disturbed as they had a conversation about finances in the pool.
read more on mafs uk
another shot
Eagle-eyed MAFS UK viewers work out new groom's reality TV past
awks
MAFS UK shock as Porscha arrives at first dinner party ALONE after row with Terence
Porscha said: "You've got children and I'm sure you contribute to the household, and you still have enough leftover to take care of me?"
She continued: "If I can contribute 50/50, would you expect me to go 50/50? That's the question."
Terence replied: "Yeah, 100 percent."
Unimpressed, Porscha said to camera: "I did not like that answer."
Most read in TV
HOSPITAL DASH
Kirstie Allsopp pulls out of Location after 'scariest moment of my life'
AWKS
Strictly star's fiancée snubs his partner – sparking 'secret feud' rumours
REDDY TO TALK
Louise Redknapp addresses Eternal feud & new boyfriend on Loose Women
SHOW ROW
GMB hit by hundreds of Ofcom complaints over Richard Madeley's row with guest
Back in the pool, she told Terence: "If I'm with a guy, I don't have to think about money. I've dated guys, you go out to eat with them you won't even see a bill."
The conversation didn't go down well with viewers, who felt Porscha was unreasonable.
Things went from bad to worse later in the day when Terence admitted he'd cheated on two of his exes, leaving Porscha concerned she could be unlucky number three.
And the pair's romantic meal descended into farce as the couple traded barbs before Porscha stormed off to her room.
It's also been claimed Terence called the police on his new wife after she "cut up his clothes" and "smashed two of his designer watches".

Source: Read Full Article